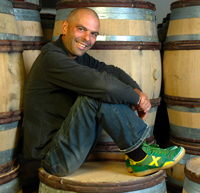 To call André Ostertag a revolutionary winemaker is to tell just half the story. He is a pioneer, certainly, but also an ardent environmentalist (as demonstrated in both his wine and his sculpture, another passion). After training in Burgundy, André returned to the family domaine in Alsace with renewed zeal: he lowered yields considerably and introduced viticultural and vinification techniques from other regions to his own home ground. The 1996 vintage marked his first collaboration with KLWM, and the following year he brought biodynamic viticulture to his fourteen hectares of vineyards, including his flagship parcel in the Muenchberg
Grand Cru.
There is poetry to Ostertag's practices. He looks for the nuance of
terroir
rather than the typicity of a grape varietal. In an...