20 New Wines, 9 different Italian Producers
So far this month we have received twenty new arrivals from nine different Italian producers. Like our French selections, our Italian wines offer excellent quality, incredibly low prices, and they display a character indicative of their native soils. We import wines from Piedmont, Tuscany, Veneto, Fruili, and as of this past summer, Liguria.
A few years ago, in preparation for an event featuring Paul Bertolli's "Fra Mani" salumi company, Paul brought in a number of large platters of salami, mortadella, patés, and mousse, all of which we tasted with our various Italian selections. We were astounded at how well the wines showed when tasted with this line up of classic Italian meats. In retrospect, we probably shouldn't have been amazed by how these wines invigorated our palates. Italian food and wine go together like a horse and carriage. In fact, I have trouble pairing Italian wines with food that is not Italian. It just doesn't seem right.
Jeremy Parzen of Do Bianchi recently wrote an excellent piece on his blog regarding Silvio Giamello, our Barbaresco producer. He discusses one of the new Italian arrivals for this month, the 2005 Barbaresco "Vicenziana." Check out his post and then check out the wine (and our other Italians) for yourself.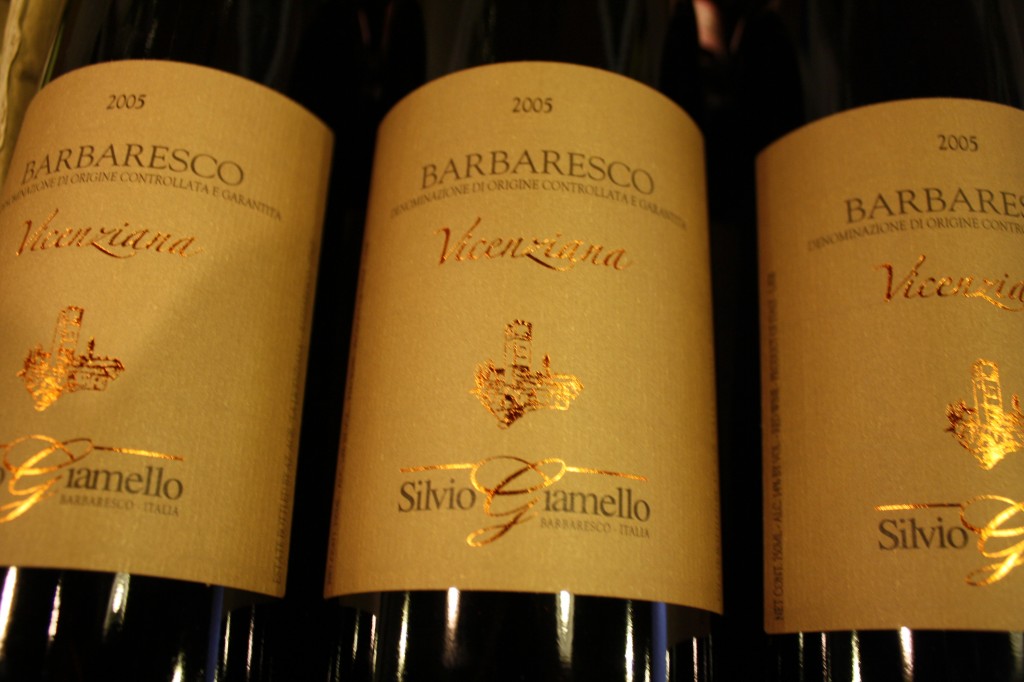 All available Italian wines:
NV Vino Bianco Secco "Grangia" • Elvio Tintero  8.00
2008 Moscato d'Asti • Elvio Tintero  9.95
2003 Barbera del Monferrato "Perlydia" • Cantine Valpane  18.00
2007 Barbera "Santa Caterina" • Guido Porro  16.00
2007 Dolcetto I'Pari • Guido Porro  14.95
2003 Barolo "Santa Caterina" • Guido Porro  39.00
2004 Barolo "Lazzairasco" • Guido Porro  39.00
2005 Barbaresco "Vicenziana" • Silvio Giamello  34.00
2004 Barbaresco "Vicenziana" • Silvio Giamello  34.00
2008 Bianco di Custoza • Corte Gardoni  12.95
2008 Pinot Grigio • La Viarte  16.00
2008 Pinot Bianco • La Viarte  16.00
2008 Pigato di Albenga • Fèipu dei Massaretti  19.95
NV Lumassina Frizzante • Punta Crena  18.00
NV Pettirosso Rosé • Punta Crena  18.00
2008 Vermentino "Vigneto Isasco" • Punta Crena   19.95
2008 Pigato "Vigneto Ca Da Rena" • Punta Crena  19.95
2008 Mataòssu "Vigneto Reiné" • Punta Crena  19.95
2007 Bandinello • Villa di Geggiano  18.00
2006 Bandinello • Villa di Geggiano  18.00
2006 Chianti Classico • Villa di Geggiano  24.00
2004 Chianti Classico Riserva • Villa di Geggiano  32.00
2006 Geggiaiolo • Villa di Geggiano  54.00
2007 Monteleccio • Sesti  18.00
2007 Rosso di Montalcino • Sesti  27.00
2004 Brunello di Montalcino • Sesti  60.00
NV Prosecco di Conegliano Brut • Sommariva  13.95