Beaujolais Nouveau 2009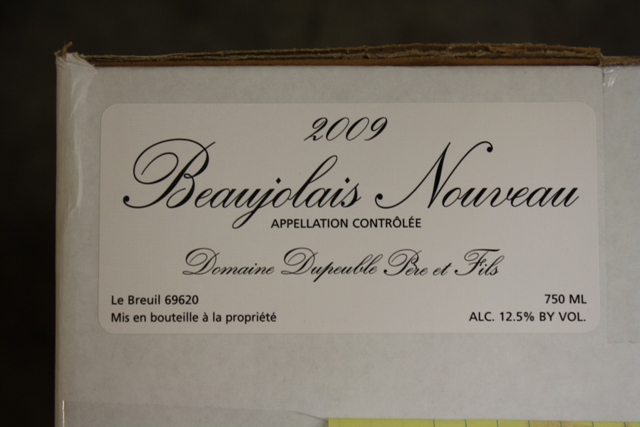 I just drove back up to Beaune from the old hamlet of Le Breuil, deep in the south of the Beaujolais region, where Domaine Dupeuble sits perched above a narrow stream.  Our annual Nouveau tasting took place bright and early this morning, a crisp October morning it was at 0° Celsius.  I gathered in the winery with the usual suspects, Damien Dupeuble, his son Fabrice, his daughter Ghislaine, and Damien's brother Julien.  Conspicuously missing was Damien's other son Stéphane, off on his honeymoon (but he had phoned in the night before to check in on the new wines – I wonder what his new wife thought of that!) We were gathered to create the annual blend of the KLWM Beaujolais Nouveau, the beautiful 2009 vintage in this case.  There were 21 cuvées to taste and categorize into primeur (obviously for selling as Nouveau), garde (cuvées needing more time), or "switch hitters."  What a treat it is every year to discover what the new vintage has to say through the nuances of every single parcel, each vinified separatel always huge personality differences between each wine, and plenty of good natured disagreements about the rankings.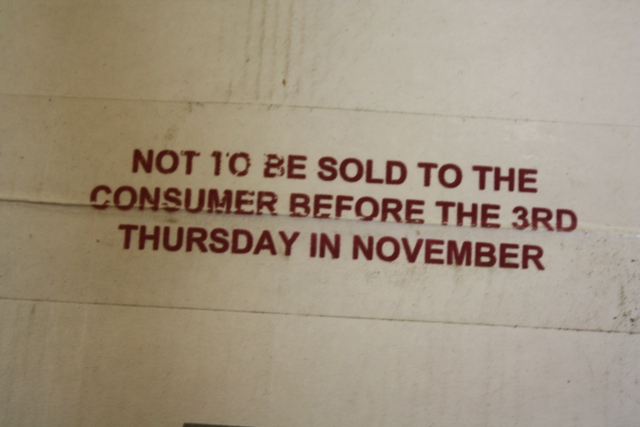 Next week the Dupeubles will assemble our blend, it will naturally settle in the tank as the winter chill circulates through open windows, then it will be bottled unfined, unfiltered, and unsulfured, and flown to the U.S. in mid-November.  The wine was made with natural yeasts and was not chaptalized.  You are getting wine in its most natural, raw state possible.  You can't imagine what some people do to their Nouveau so it will be stable enough to sit on supermarket shelves for a year, but we don't worry – we normally sell out in one week!  Besides, the Dupeubles know what they are doing – their family has been making wine here since 1512.
I have fond memories of my time in the Berkeley retail shop, and Beaujolais Nouveau Day was always one of the biggest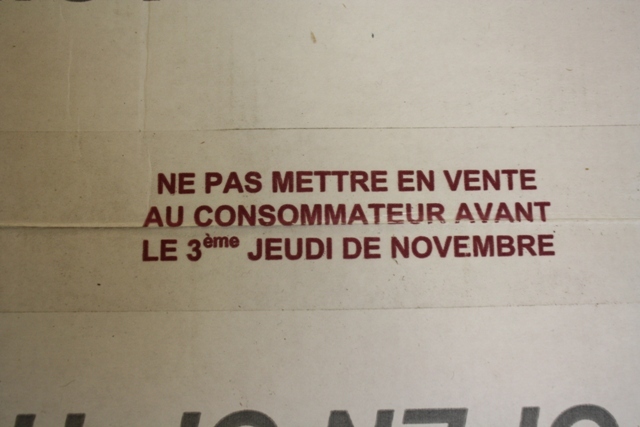 of the year.  The store was packed with clients all day and we spent almost every moment carrying out stacks of cases of wine to waiting cars, much to Kermit's delight.  The 5 minute respite in the kitchen with one of Chris Lee's homemade sausages right off the grill and a glass of Dupeuble Nouveau was always the highlight for us, however!
Come help us celebrate the fantastic 2009 vintage in France with our first arrival. We guarantee you won't leave empty handed, and you won't regret buying what leaves with you!
Beaujolais Nouveau 2009
Saturday, November 21
11 a.m. to 4 p.m.
Here's the menu that Christopher Lee has put together for us this year: Grilled Boudin Blanc with little potatoes, apples and cabbage, and a baguette. Look forward to seeing you here!
No reservations required.
Sorry, no credit cards at the food stand.
Event Presented by Café Fanny
Kermit Lynch Wine Merchant | 1605 San Pablo Ave. Berkeley, CA | 510.524.1524