Big Bottles
Every once in a while, we members of the retail staff get together for dinner. We usually pick a nice place somewhere in the Berkeley area or sometimes we end up at someone's house. When this happens we often reach for magnums (the equivalent of 2 bottles of wine) to drink throughout the meal. We can be a large group and everyone will want a glass or two of whatever we are drinking, so clearly drinking a big bottle is the way to go. I'm actually rather amazed that more people don't buy magnums for their dinner parties. To me, it makes sense.
Normally we estimate that at a dinner party, each guest will on average drink half a bottle – that's 2.5 glasses of wine. If you're serving 4 people – you need just one magnum. If you have 12 people coming to your house, save your arm strength and open 3 magnums instead of 6 750s. Magnums look great on the table, they are a good size for pouring, and everyone can get their fair share during the meal.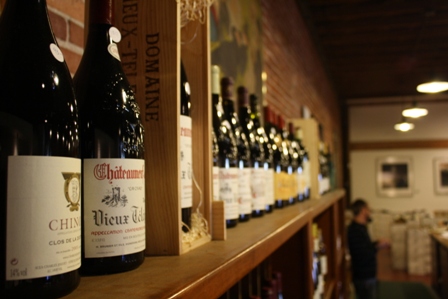 Consider our list of big bottle wines below for gift giving and dinner parties this holiday season. These wines start out at $32 a bottle, many can age brilliantly, and many can be drunk now!
Magnums
2005 Chinon "Clos de la Dioterie" • Charles Joguet            $93.00
2006 Châteauneuf-du-Pape "La Crau" • Vieux Télégraphe            150.00
2008 Châteauneuf-du-Pape "La Crau" Blanc • Vieux Télégraphe        119.00
2007 Châteauneuf-du-Pape "La Crau" Blanc • Vieux Télégraphe        130.00
2005 Châteauneuf-du-Pape "Mourre de Perdrix" • Charbonnière         99.00
2006 Gigondas • Domaine Les Pallières          72.00
2005 Gigondas • Domaine Les Pallières          80.00
2004 Gigondas • Domaine Les Pallières          74.00
2007 Vacqueyras "Floureto" • Domaine le Sang des Cailloux        72.00
2002 Côte Rôtie • Patrick Jasmin         113.00
2006 Bandol • Domaine Tempier         96.00
2006 Bandol "La Tourtine" • Domaine Tempier         138.00
2006 Bandol "La Migoua" • Domaine Tempier         138.00
2005 Chassagne Montrachet "Les Vergers" 1er Cru • Bruno Colin        164.00
2005 Pouilly-Fuissé "Claude Denogent" • Robert-Denogent            90.00
2005 Pouilly-Fuissé "Les Carrons" • Robert-Denogent            110.00
2002 Pouilly-Fuissé "Les Carrons" • Robert-Denogent            134.00
2006 Meursault-Blagny "La Genelotte" 1er Cru • Domaine Cherisey        154.00
2006 Puligny-Montrachet "Hameau de Blagny" 1er Cru • Domaine Cherisey    154.00
2002 Blanc de Blancs Brut 1er Cru • Veuve Fourny            142.00
NV Préférence Brut 1er Cru • J. Lassalle                114.00
NV Prosecco di Conegliano Brut • Sommariva                32.00
Jeroboams
2006 Châteauneuf-du-Pape "La Crau" • Vieux Télégraphe            $362.00
2004 Brunello di Montalcino • Sesti                    318.00