March Newsletter Now Online
The March newsletter is now available. Download the pdf here.

Highlights from this month's newsletter…
STAFF SELECTIONS
Staff selections are always a big hit in our newsletters. This time, I've decided to take it a step further. We'd like to give you, our clientele, the opportunity to get to know us better. One of the most common requests I hear from clients throughout the year is for the opportunity to work regularly with a salesperson. Please take a look at the bios of the salespeople to see if there is someone who is right for you. Also, during the month, each staff member will be posting on here on our blog about their favorite wines and experiences drinking them.
After the job of finding great wines at great prices, there is nothing more important in our business than making the client feel as comfortable and confident as possible when making a purchase. Let's face it—buying wine can seem a bit intimidating sometimes. As retail manager of KLWM, I want to make it easy for you to have a positive experience in the store. Feel free to introduce yourself and latch on to any one of us. Like they say in my favorite Bogart movie, "This could be the beginning of a beautiful friendship." —Steve Waters
PRE-ARRIVAL OFFER
GROS 'NORÉ IN MAGNUM
by Kermit Lynch
From my house near Bandol, I can see Alain Pascal's Domaine du Gros 'Noré across the valley. He has created a beautiful estate—he came up with the design himself, and with friends even laid the stones and tiles. Now his wines are putting the place on the map.
Gros 'Noré? Well, Alain's father's name was Honoré and he was a huge chunk of a man, so people called him Big 'Noré. Gros 'Noré.
Alain and I have become friends. Drinkin' buddies. We might meet early and go to La Ciotat to await the fishing boats' return and buy the catch still wriggling. Octopus is often available, slippin' and a-slidin'. Also, Alain hunts and invites me for roast boar or various fowl cooked over vine cuttings.
Once, he loaned me his shotgun so I could take care of a pesky wabbit that was dining out in my vegetable garden with such appetite that there was nothing left for me. I took my well-fed organic victim to Alain, who skinned it and cooked it with lots of garlic and thyme. I uncorked a Cornas from Allemand, 1995. Zounds and gadzooks!
Another evening, this year before the harvest, Alain brought out a magnum of his 1999 Bandol rouge. For the two of us. I told him his eyes were bigger than my stomach, but he said no, no, he just likes wine better in magnums. He says they always taste better. And then it came out that he has a bunch of magnums he has never offered for sale.
And here they come. My advice? Go for it!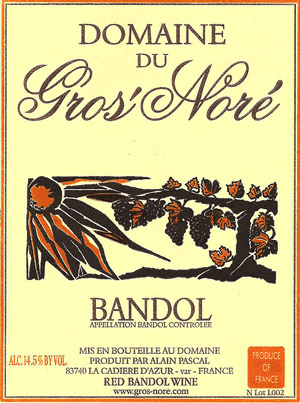 | | |
| --- | --- |
| | per bottle |
| 2007 Bandol Rouge MAGNUM | $66.00 |
| 2006 Bandol Rouge MAGNUM | 66.00 |
| 2005 Bandol Rouge MAGNUM | 70.00 |
| 2003 Bandol Rouge MAGNUM | 72.00 |
| 2001 Bandol Rouge MAGNUM | 88.00 |
| 2000 Bandol Rouge MAGNUM | 82.00 |
| 1999 Bandol Rouge MAGNUM | 85.00 |