If You're Going To Sam Francisco…
Today's guest blogger is Sam Imel, the latest addition to the KLWM retail staff…
In 2006 I worked the wine harvest in St. Emilion, France.  While living in Napa years prior, I became friends with a French girl named Claire who interned at a local winery.  It turned out that her family owned a château in Bordeaux, and each year she would invite me to take part in harvest. As a student, it was impossible for me to fathom taking off the first month of a fall semester to pick grapes.  Once graduated and free, I was off to experience all that goes in to making a bottle of wine.

Initially it seemed just right.  Claire's mother, Madame Fourcade, oh-so elegant and graceful, met me at the Libourne train station and delivered me to Chateau Côte de Baleau.  Waiting until the rest of the harvest workers arrived, I walked around the property in awe of its beauty.  Before I knew it, a caravan of five cars came tearing down the gravel driveway, music blasting.  They had arrived and I was intimidated.  Fifteen young men recently graduated from high school in Bordeaux piled out of the cars with an air as if they owned the place.  Madame Fourcade introduced us as we figured each other out.  We passed the evening drinking young wine and cheap scotch.  Deep into the first night, I decided to retire "early" to the old stone barracks where harvest workers have slumbered for centuries.  In a musty space above the cellar and tractors, I timidly searched out a rickety metal cot in the corner to rest my bones.  An hour before sunrise, I was awoken to an army of drunken kids thrashing around the room fighting over beds.
It wasn't long before they noticed the curious American asleep in the corner.  The leader of the pack, Stanislaus, was the first to instigate: "Saaaaam, what are you doing here Saaaaam?" With a pillow folded over my head and under a blanket I pretended to sleep.  "Why are you here Saaaaam?" he resonated.  Laughter roared and all chipped in to make me very uncomfortable.  Stanislaus belligerently sung repeatedly, "If you are going to Sammm Franciscooo …" It drove me nuts; I couldn't give into their tactics.  I lay awake hidden until sunrise thinking, "Sam, what are you doing here?"
It soon made sense.  They tested me and I passed.  Over the next couple of days I was one of them and we were comrades.  We engaged in picking grapes, sorting, and working in the cellars at the family's three Châteaux: Chateau Côte de Baleau, Château Les Grandes Murailles, and Le Clos Saint Martin. Covered in mud from a day's wet work we would start a soccer match before showering and helping prepare a massive family meal.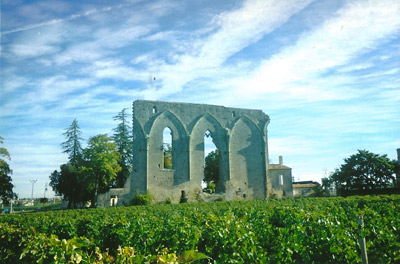 Château Les Grandes Murailles
All that goes into a bottle of wine proved far beyond what I had anticipated.  It seemed so simple: when the fruit is ripe, pick, press, and ferment it into wine.  All of that is very true, but once harvest was complete I had another thought as I scanned over wine bottles on display at a wine bar in Bordeaux.  For every wine, from all vintages, there is much more involved beyond the year's weather and the vigneron's technique.  Though seldom heard, and as infrequently experienced, there are countless stories about the people behind the vintage of each wine label.