Values in the Cellar
As mentioned in my "Staff Selections" write-up in the March newsletter, my Dad who introduced me to wine when I was ten. Growing up in Napa and spending summers as a teenager in France, wine was always on the dinner table. He has been fortunate enough to put together a small but well selected cellar of wines, primarily from France and California. Since I started working here at KLWM in 2007, the French selections in his cellar have grown. I've added classic mainstays like Vieux Télégraphe, Pallières, and Tempier while also encouraging him to check out village level Burgundy, Loire Valley reds and whites, Beaujolais, and the hearty, well-structured value-priced reds of the Rhône and Languedoc. Now that he's cellared a number of these wines for a few years, it's exciting to dig into them. He's my most important customer, mainly because if he isn't enthralled with something, I never hear the end of it. My Dad is also the only client whose wine I actually get to drink, so, in a way, I'm recommending wines for myself! While in Napa a few weekends ago, I opened up a few wines that I sold to him during my first year in the shop: a 2005 Pouilly-Fumé from Régis Minet, a 2004 Gevrey-Chambertin from Régis Bouvier, and a 2004 Lirac from Domaine du Joncier. When he purchased them I told him to hold off on drinking the reds for a few years and that the wait would be worth it. My initial reactions to seeing these wines in his cellar were:
2005 Pouilly-Fumé: Uh oh, should that have been drunk two years ago?
2004 Gevrey-Chambertin: Finally I'll be able to show him what a little bit of age can do for Pinot Noir!
2004 Lirac: Too young? Maybe just right? Should be pretty darn good.
The wait was worth it even for the white. The 2005 Pouilly-Fumé was stunning. Fresh, minerally, still super crisp, and extremely aromatic – ripe fruit, with an edge of citron, and fresh cut flowers. The age was starting to peak through with hint of honey on the finish. The richness of the honey and crisp acidity is a match made in heaven, often found in aged white Burgundy and Alsatians. I've never recommended aging Sauvignon Blanc, but maybe a few years in the cellar from a well structured vintage is something to explore.
The 2004 Gevrey was simply perfect. We drank it with Cowgirl Creamery's funky, washed-rind, "Red Hawk," cow's milk cheese. What a match. The Gevrey had power, terroir, blackberry fruit, earth, and truffle. My final glass of the Gevrey was with the beginning of our dinner of barbequed rib eyes, which worked well with the masculinity of the wine. It was a good time to drink the 2004 Gevrey—it has probably another 5 or 6 years of "peak" drinking left to it though.
Our final wine of the night was Joncier's 2004 Lirac. This hearty Rhône red retailed for $16 in 2007. The quality this wine affords makes it a personal favorite, placing it high on my list of value wines that should be cellared for maximum drinking pleasure. The bottle of 2004 was excellent, but left me thinking, "What could this have been in another four years?" I've had a number of 2004 Rhônes in recent months, a Cairanne, Gigondas, and St. Joseph, and each have been impressively well preserved, deserving much more time in bottle. The 2004 vintage was quickly overshadowed by the hype about 2005 and I fear many of these wines may be drunk before their prime. Approach your 2004 Rhônes with vigilance; they are turning out to be true.
Have you had any older wines recently that were "value-priced" when purchased? Forgotten about something in your cellar, just to discover it's still tasting great?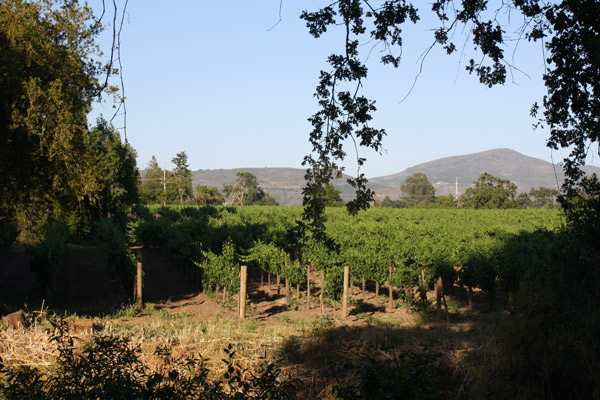 Napa, a great place to drink French wine