Off To France
Vacation time can means different things for employees of KLWM. So far this year we've headed to Hawaii, Vermont, Zion National Park, and a few have taken the relaxing "stay-cation," choosing just to stay home. I'll be following in the footsteps of many salespeople who decide to spend their precious vacation time traveling to France, visiting the properties of the vignerons' whose wines we import.
Having been fortunate enough to study in France during college, this pilgrimage will be a new discovery of a country and culture I've already learned to love. What an opportunity.
Here are a few producers I'll be visiting and why I'm excited to see their properties.
Domaine Les Pallières
I'm going to ask that the tour at Kermit and the Brunier's domaine will include a viewing of the "Terrasse du Diable" vineyard. This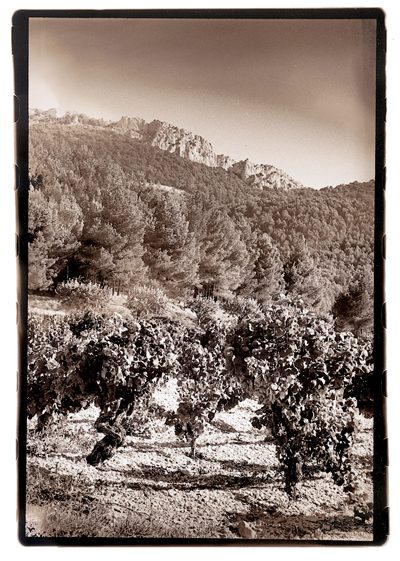 parcel is located high above the winery and beneath the imposing Dentelles de Montmirail. It is responsible for the wild, brambly, and chewy bottling of the same name. The 2007 Gigondas "Terrasse du Diable" is available for the moment at $34 a bottle. It is one of 2007's greatest wines. The vineyards of Pallières are pictured to the right.
Domaine du Vieux Télégraphe
What self-respecting Kermit Lynch employee wouldn't want to see the famous "La Crau" vineyard? The stones! The massive galets covering the vineyard floor of this Châteauneuf-du-Pape are legendary among fans of Vieux Télégraphe, and that is something I've got to see with my own eyes.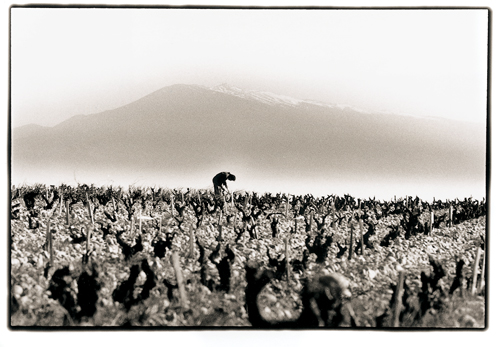 The La Crau vineyard at Domaine du Vieux Télégraphe
Domaine Comtesse Bernard de Cherisey
De Cherisey produces classic Chardonnay, described by my colleague Michael Butler as "wine from a different time." White Burgundy like this doesn't come around very often unless you purchase from the likes of Coche-Dury and Antoine Jobard. Unlike Coche, de Cherisey is regularly available for purchase and at a fraction of the price.
Vigneron, Laurent Martelet, is a family man who took over his mother-in-law's vines in the late '90s and has focused his craft on making precise, mineral-driven wines. He's even writing a book on his winemaking philosophy. Start purchasing these wines now. Demand is quickly growing, but the supply isn't. The 2008s are currently on pre-arrival.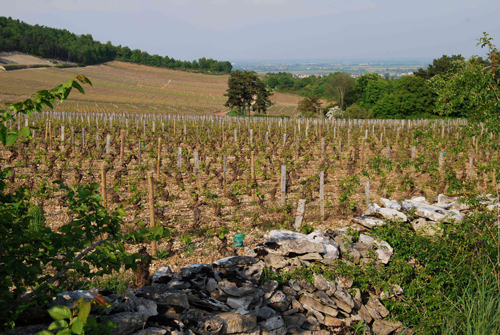 De Cherisey's Meursault "La Genelotte" 1er cru vineyard
Pierre Guillemot
Kermit has imported the red and white Burgundies of Pierre Guillemot since the 1970s. They aretightly coiled, terroir-driven masterpieces that never break the bank (premier crus for $35!?!). Entering the Guillemot cellar is like taking a step back in time, not just because of the old vintages that are often opened during tastings, but because nothing has changed in decades. The wines and family are true to their roots, old-school Burgundian. I can't wait to get underground with them.
I'll be taking a hiatus from the blogging during my two weeks in France but I'll be updating the KLWM Facebook and Twitter accounts regularly. I hope to have some interesting tidbits for you when I return.