The Mountain Quaffer: Jacquère
Much attention is paid to drinking refreshing wines in hot weather. A chilled rosé, a flinty Muscadet, or a bubbly Prosecco seem to be synonymous with the need for a cool glass during the summer months. As cold weather rolls in, our palates turn to "winter" wines—hearty, structured, and dark red—for stews, braises, or roasts.  But why drink red without a white to precede it? Isn't refreshment a yearlong pursuit? Does a horse drink from a warm spring in winter? Well, I don't know the answer to that last question, but what I do know is that year round I seek pleasure in a light, crisp wine. My logical solution during winter is to drink a cold climate white and in most cases, I reach for the wines of André and Michel Quenard—our producer from the Savoie, located in the French Alps.
Looking across the valley in Chignin, out to the Alps.
The Quenards make whites, a red, and a sparkling brut, but it is their two whites made from the indigenous Jacquère grape that grab my attention. Jacquère is the most widely grown grape in the Savoie and has helped define the character of white wine from the region: low in alcohol, lightly floral, and a touch of mineral. Their 2009 Vin de Savoie "Les Abymes" and the 2009 Chignin Blanc are both 100% Jacquère and typify this classic style. There is a lively quality to Jacquère on the palate that makes these wines go down oh so easily.

I believe that there is a logic to why each region of France developed certain wines. Often, the wines go hand-in-hand with the local cuisine, but perhaps lifestyle plays a role as well. In the case of the Savoie, cheese fondue is a classic pairing with Jacquère, although I would venture to guess that the Savoyards found that after a long day of mountaineering, scaling peaks and glaciers, they craved something quaffable to quench their thirst.
I like to joke that I drink a few glasses of Les Abymes to hydrate before going on a hike, but in fact it is perhaps best saved to drink after any physical activity.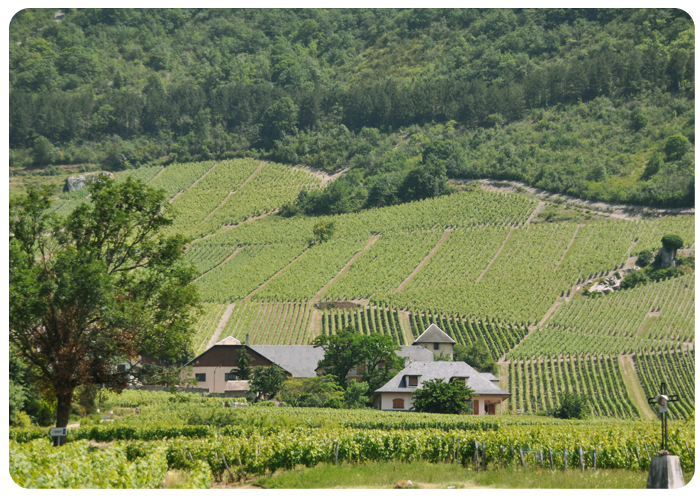 The Quenard's winery.