Varsity Quaffing
As winter slowly winds down, the days become longer, springtime vegetables start to appear in the market, and my taste buds turn away from big, hearty wines in favor of the easily devoured quaffer. It's a theme that never gets old around KLWM.
Shortly after graduating college, I moved to France to lead bicycle tours. Our company was based out of Burgundy, and the guides lived together in an apartment in Puligny-Montrachet. Surrounded on all sides by some of the greatest titans of French winemaking, my jug-wine palate rapidly evolved in a new direction.
After my first summer in Burgundy, a friend and vigneron from a nearby village invited me to help with the last two days of harvest. I say "invited," because it was meant to offer me a cultural experience. He and I both knew that I was clueless as how to select perfectly ripe Pinot Noir or how to properly cut the clusters from the vine.
About fifteen of us loaded into a white van at 5 a.m. The van snaked up into the Hautes Côtes de Beaune along steep passes and unpaved vineyard roads. With every bump, my nerves raced. This team was on a multi-week harvesting streak with no days off. It was just another day for them— they joked, smiled, and seemed unfazed. Upon arriving in the vineyards each vendangeur was given a set of pruning shears, his/her own row to pick, and told to get to work. We all moved in tandem through the vineyards at first, but the pace was fast, and not everyone (ahem) could keep up.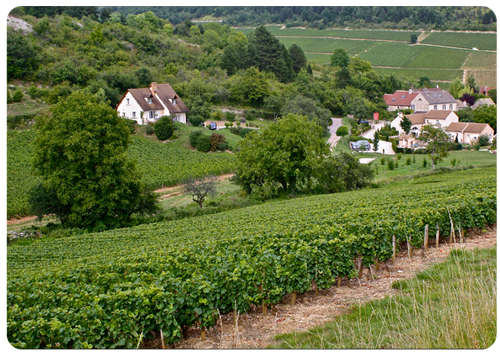 Vineyards above the town of Nantoux in the Hautes Côtes de Beaune
It took about twenty minutes before the juice from the grapes was making both my fingers and my pruning shears stick together. Six months of daily cycling, sometimes as many as 80 miles at a time, didn't give me any advantages over these pros. In fact, I felt pretty wimpy as each muscle in my body screamed for relief. American expats in France take a lot of guff, and although my work ethic that day was fortunately proportional to my sense of pride, it was all I could do to keep up with the slowest harvester, still half a row ahead of me. Forget the romanticism, folks—this is truly back-breaking work.
As each person's basket filled with clusters, they called out for the videur, a position of honor among the harvesters. The videur would come around with a basket strapped to his back, the harvesters would empty (vider) their baskets into his, and he would then carefully distribute the contents into small crates so the grapes wouldn't get crushed before arriving at the winery. When he was sufficiently satisfied, we were all allowed to stop for a drink. Oh, thirst-quenching, life-giving water, at last! Funny, there was none to be found. Instead, six unlabeled bottles were uncorked before us, and we were all handed little glasses filled with wine.
Call it desperation or stupid feminine machismo, but I threw that cool red back like a cowgirl with a shot of whiskey in a saloon. Refreshing, light, and delicious—ahhhh—the ultimate quaffer. It sure did the trick, albeit perhaps the wrong one. As my body wobbled down the next row of vines and my head as light as a feather, I realized that I was buzzed before breakfast in the midst of hard labor. Necessity got the better of me, and I politely asked if there was any water around. One of the well-seasoned, old guard laughed and pulled a huge container of water out of the back of the van. A few of us went for the water, but the varsity team kept drinking the wine. The quaffing resumed at lunch, and then again after the last of the grapes was brought in. If I had continued, I would've passed out before lunch—clearly, I couldn't play in this league. That day I learned that quaffing is not a sport for the faint of heart in France.
I was only harvesting for two days, but I wouldn't escape the hazing. In this team's tradition, on the very last day, the harvesters bombard the newest member from all sides with grapes and throw him or her into one of the vats. After being pummeled with clusters, I suddenly found myself waist-deep in purple, but it was the thrill of a lifetime, my first few thirst-inspiring days inside the wine world.
In honor of those who work so hard for our tasting pleasure, despite the incredible depth of their thirst, I'd like to share my top five quaffers—white, rosé, and red— in the store right now.
| | |
| --- | --- |
| | Bottle |
| 2009 Incò Bianco • La Viarte | $14.95 |
| 2009 Bourgueil "Avis de Vin Fort" Clairet Rosé • Catherine & Pierre Breton | 22.00 |
| 2009 Beaujolais • Domaine Dupeuble | 14.95 |
| 2009 Becco Rosso • Corte Gardoni | 16.00 |
| 2008 Bandinello • Villa di Geggiano | 18.00 |