Elly's Cellar Series, Part 3: ExCELLARated
There are probably one hundred clever ways to say this, but I can't think of any, so instead I'll be direct: I won a Fulbright grant to teach English in Colombia for ten months. I leave the country before the end of July. This means that I must abandon the leisurely pace of my Cellar Series in exchange for ruthlessly fast lean prose that expresses all I had planned to say and satisfactorily ties up any loose ends. This may prove an impossible task, but if anyone can do it, surely a Fulbright scholar can… right?
I'm really going to miss wine when I'm in Colombia. Well, maybe not the first month, when cheap beer and aguardiente are still novelties, but by month three I'll be having serious withdrawals. This is why it's important to have the perfect cellar waiting for me at home. It'll be something to dream about and look forward to. The best part is that I won't be ABLE to touch any of the bottles for a whole year, so my wine will be safe from my impatient self.
The pressure is on, not only because of my rapidly approaching departure, but also because the 2009 vintage is spectacular. If I want a wine, I should buy it now because it will be gone when I get back. So brace yourselves, blog readers, no gentle recommendations will you find in this post. Below is a totally uninhibited list of everything I want to lay down right now. Plus, I will include a couple of ideas about where to store wine. I wanted to do a whole "Jimmy-Rigging Your Cellar" post, but alas, there's never enough time.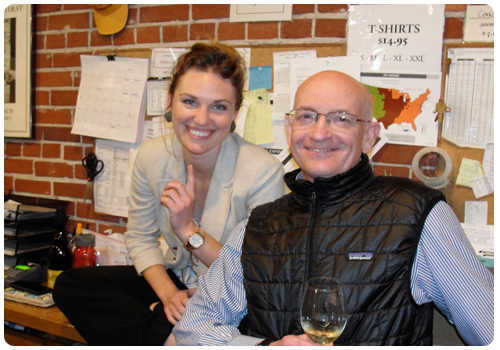 Elly and her primary cellar mentor, Michael Butler.
 Elly's List
There are many amazing wines in the shop right now, but these are the ones that make me blush and increase my heart rate. They are more than simple quaffers, those light little flings on a warm evening, enjoyable but not to be taken too seriously. No, with these wines I want a more serious, long-term relationship. For example, the Bandol "La Tourtine" will be around for at least 20 years.
2009 Bandol Rouge "La Tourtine" ·  Domaine Tempier, $51.50 (pre-arrival)
2009 Savigny-Serpentières ·  Domaine Guillemot, $39
2009 Savigny-Jarrons ·  Domaine Guillemot, $39
2006 Barolo "Lazzairasco" ·  Guido Porro, $39
2007 Barbaresco "Vicenziana" ·  Giamello, $37
2010 Savennières "Cuvée Special" ·  Château d'Epiré, $24
2010 Jasnières "Cuvée du Silex" ·   Pascal Janvier, $22
2009 Chinon "Grézeaux" ·  Bernard Baudry, $28
2009 Morey-St-Denis ·  Domaine Bouvier, $54
2009 Châteauneuf-du-Pape ·  Vieux Télégraphe, $65 (pre-arrival)
As you can see, my price point has spiked just a little bit, but this is no time to be stingy. These wines, plus the five from my last post, represent what I feel is a relatively affordable and fantastic starter collection. The average bottle price of the list above, after the 10% discount, is $35.87. If I get three bottles of each, I'll have 30 bottles of terroir-driven, highly age-worthy wine for about a grand. Feel free to copy me. I'd be flattered, and I'm sure you won't be disappointed.
Where to Stash Them
I wish my parents had invested in an underground cave. I could tuck my wines in there, let them get covered in mold and cobwebs, and keep them happily waiting until I'm ready to drink them. That would be great. Unfortunately, I have not yet found a portal to my perfect world. In my imperfect reality, I don't have anywhere to put my wine.
All I need is a place that is dark, cool, preferably humid, and temperature-consistent. I was planning to insulate off a little corner of the subterranean garage in my new apartment. I was going to monitor the temperature. I would have been so proud. I could have given tours. Now the idea of thirty bottles of delicious wine left in the hands of my beloved roommates scares the bejeezus out of me. I mean, I trust them and all, but… better not to test friendships like that.
My best option would probably be to rent a cold storage room. There are affordable options in the East Bay and this way my wine will be totally secure. It will also be safe from thirsty friends and relatives.  If I procrastinate in the next couple of weeks, which is not unheard of, my parents' guest room closet would probably be passable for ten months. It's dark and they have air conditioning. I wouldn't keep my bottles there five years though, as the warmer temperature would speed maturation.
 A Final Anecdote
My KLWM co-workers threw me a going-away dinner party a couple Saturdays ago. Partying with wine industry people is always a very good idea, because most of them have some nice bottles squirreled away that they need an excuse to open. This party was no exception, and by dinner course number two I was really beginning to regret that I had worn my fabulously tight, high-waisted vintage skirt. As the night continued, I was forced to unzip the back, half-inch by half-inch. I should have listened to the wisdom of Coco Chanel (or at least what I believe her wisdom to be): discomfort is not often sexy.
Back to the food and wine. So, the first course was traditional Colombian pork Chuletas with a spritz of fresh lemon, made by a legitimately Colombian mother (thanks Betty!). We paired it with 2002 Raveneau Chablis. What an unexpected treat! The lemon with the richness of the fried pork and a little saltiness complimented the bright acidity and the age-induced roundness of the Chablis. The wine was wonderfully complex and finished with classic minerality. A young Chardonnay could never compete.
Hang onto your computer chair, 'cause the size of the second course was surpassed only by its deliciousness: braised lamb, tomates à la Provençal, roast chicken, eggplant soté, and potato gratin. The pairing, you ask? Are you still holding on? Two magnums: a 1994 Clape Cornas and a 1990 Vieux Télégraphe (thanks Kermit!). The most common adjective we came up with to describe the Cornas was "black": black olives, blackberry, black pepper, granite (which is mostly black). The Vieux Telegraphe was my favorite. Full, earthy, and fruitful, this 21-year-old wine had plenty of life in it still.
Then came the cheese course with handmade, spiced flat bread. You know, no biggie, so we opened a couple bottles of 2002 Chambolle-Musigny "Les Charmes" 1er Cru from Bertheau. At this point I felt the night had brushed shoulders with perfection. It's never a bad idea to end a meal decadently, and pairing good cheese with bright, elegant, juicy red Burgundy might just be the definition of decadence.
You think I'm done. Nope. With flushed cheeks, full stomachs and stained grins, we had dessert. The simplicity of vanilla ice cream and summer berries, oo la la. You're probably thinking that given the quantity of food and alcohol already consumed, one little spoonful of berries must have forced me to remove the skirt entirely, but you'd be wrong. Instead, I got a superhuman second-wind, rallied and went out dancing to a Peruvian band.
See what can happen when you age wine? All of a sudden dinner is better, friends are more attractive, everything's funnier, and you find yourself looking like a million bucks on the dance floor (with the assistance of a couple safety pins)—as  happy as can be.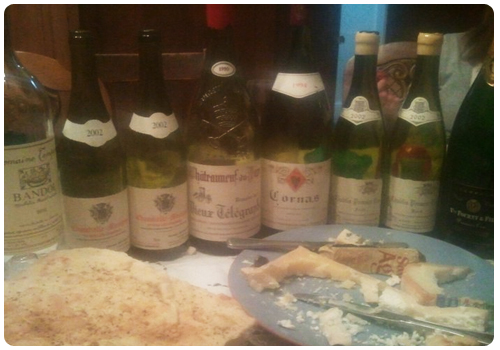 Left to right: 2010 Bandol Rosé MAGNUM • Domaine Tempier, 2 btls 2002 Chambolle-Musigny "Charmes" 1er Cru • Domaine Bertheau, 1990 Châteauneuf du Pape MAGNUM • Vieux Télégraphe, 1990 Cornas MAGNUM • August Clape, 2 btls 2002 Chablis "Forêt" 1er Cru • Domaine Raveneau, NV Brut MAGNUM • Veuve Fourny