Of Rock Stars and Friends
On a slow morning, years ago in the Financial District wine shop I used to work at in San Francisco, I peered out the showcase window overlooking Sutter Street and noticed a distinctive looking gentleman hopping out of a taxi cab.  "Oh, my god, that's Geddy Lee," the bass-playing/singer of the Canadian rock trio, RUSH!  It looked like he knew where he was going, because he walked right into the wine shop and up to me at the counter.  We introduced ourselves, and after asking a few "feeler" questions, I quickly discovered that Geddy was a veteran wine aficionado.  He was looking to buy a distinctive gift for some winemaker friends he was about to visit up in Sonoma County.  We perused the mahogany wine racks of the store and Geddy settled on an older vintage of Château d'Yquem, the legendary Sauternes producer.  I had helped a couple other rock stars previously (one in a particularly altered state of mind), but Geddy was different—as compared to the stereotypically drugged-out version, he was gracious, down-to-earth, and in possession of an ironclad musical pedigree.  We said our farewells, and I quickly ran to the phone to call my buddy to say, "Dude!  You'll never guess who I just sold a bottle of wine to!!"  Little did I know that my path and Geddy's would cross again soon.
My friend, colleague, and long-standing wine biz comrade, Daniel Madero, was hired by Kermit in early 2000.  Daniel and I used to work together when I was a wine buyer and he was my sales representative from a Bay Area wholesaler.  A position in the retail store became available at Kermit Lynch Wine Merchant, and Daniel recommended me for the job.  After a few weeks, we were discussing allocations for a prestigious white Burgundy estate when Daniel said, "I've got a bunch of requests for this, but, this is pretty cool, Geddy Lee of RUSH wants some, too."  "Wait a minute!  Geddy Lee is a client of Kermit Lynch?!"  "He sure is," Daniel replied.  "I just spoke with him, and he said to let him know if I was interested in seeing the band when their upcoming tour hits town.  Wanna go?"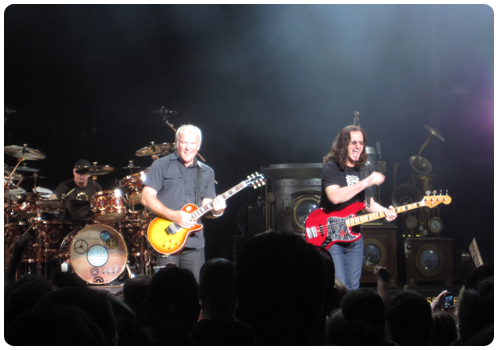 RUSH!
Geddy really pulls out the red carpet when he puts you on his guest list.  For our first RUSH concert since joining Kermit Lynch Wine Merchant, Geddy got Daniel and me fifth row center seats, all-access badges, and backstage passes to meet the band after the show.  I didn't have big expectations of what a RUSH show was like, but I walked away afterwards thinking, "Holy Shostakovich, that was fantastic!!!  That's a helluva lot of sound for only three guys!" (Alex Lifeson is the guitarist and Neil Peart is the drummer)  It's pretty amazing to consider that RUSH has been playing together (since '68) for almost as long as the Rolling Stones and are considered the last, great power trio (think Cream). RUSH is third all-time behind the Beatles and the Stones with the most gold and platinum selling albums—pretty impressive.  They are supremely talented musicians that are still at the top of their game.  Even better, backstage, after handing out some RUSH t-shirts and tour programs and accepting our accolades, Geddy was more interested in discussing wine, the prestigious selections in the Kermit Lynch portfolio, and how great it must be to sell them.  For a little while, I wasn't sure who the rock star was anymore.
As the years went by and my interactions with Geddy increased, I had a brilliant idea to get to know him better.  I had suggested a few times that we should get together for dinner, and Geddy was always polite with my requests, but I wondered if he got asked this all the time from gobs of people.  Luckily for me, a tour came through the Bay Area that allowed a free night for the band, and Geddy had said that he had always been curious about dining at Chez Panisse in Berkeley.  "Well, how about we meet at the wine shop for a tour and a bottle of Domaine Tempier rosé, and then we can head up to Chez for dinner in the café?," I proposed.  Geddy accepted, and a few weeks later, he and Alex Lifeson were stepping out of their limo and into Kermit Lynch Wine Merchant.  We met Daniel at Chez Panisse for dinner and had a fantastic meal with magnums of 1998 J.L.Chave Hermitage Blanc and 1998 Domaine du Vieux-Telegraphe Chateauneuf-du-pape Rouge.  Both wines were spectacular.  The show was the following night, and for the first time, Daniel and I were given the distinct honor of coming up on stage during the second set to "baste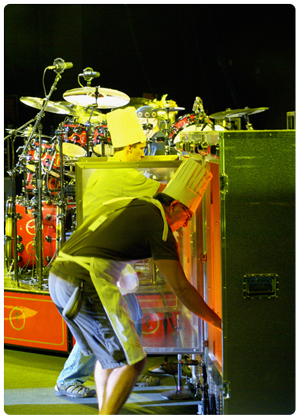 the chickens."  Geddy has had a series of stage "props" behind him that allow an individual in costume the opportunity for a little onstage interaction.  Theatre of the Absurd, if you will.  In our case, as the band launched into "The Spirit of Radio," it was chef outfits and a large rotisserie full of plastic chickens that needed to be basted.  We even basted the rubber chicken that was a part of Neil Peart's drum set!  (Don't think Neil was expecting that.)
I must admit that I have become a RUSH fan since working with Geddy.  I remember a couple RUSH tours when I was in high school, but it was listening to my older brothers' constant appraisals of rock bands and musicians that they considered the most influential that stuck with me— "RUSH is pretty cool, but letmetellya, their drummer, Neil Peart, is the greatest rock drummer ever.  Even better than Keith Moon!"  (Speaking of Keith Moon, Kermit tells a great story from his early rock and roll days about a gig in Berkeley and a bartender who played at top volume The Who's Live at Leeds, which had just been released, before, during their break, and after the show.  In other words, Kermit's band had some tough competition that night.)  I would say Geddy Lee is equally worthy of consideration as one of the most influential rock bass players ever.  He is a master of a wide range of bass-playing styles, and in combination with his signature Fender Jazz bass, creates a sound that is unmistakably Geddy Lee.  Alex Lifeson is also an amazing guitarist.
This past June RUSH came to town on another tour.  It was my fifth show since working with Geddy, and RUSH stepped into a solid second place of bands I've seen the most often (a distant second only to The Grateful Dead).  Daniel, Graeme Blackmore, General Manager of KLWM, wholesale rep Matt Gerloff, and I, piled into the car and headed to the show with a couple mixed cases of wine to put on Geddy's tour bus.  Even more extraordinary, all four of us have helped Geddy Lee buy wine over the years from Kermit Lynch—first there was Graeme, then Matt, Daniel, and then I "inherited" Geddy as one of my best clients.  It was all in the Geddy family.
Once again, we had great seats and the show was spectacular.  After the concert, sitting in the artist guest area, we had a cold beer and waited to enter the inner sanctum of backstage to see Geddy and Alex.  We walked back and hung out off to the side as Geddy chatted with another group of fans.  We brought a bottle of a chilled white wine to share with the guys and pulled the cork in anticipation.  As we filled our glasses, Geddy turned, caught my eye, and stepped forward and gave me a big 'ol hug.  Another year, another tour, and one more chance to hang with a rock star who, just as importantly, is a great client and a warm-hearted soul.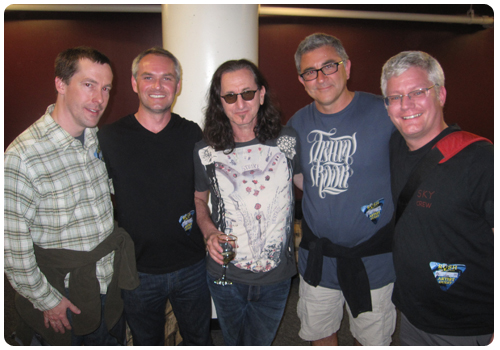 Left to right: Steve Waters, Graeme Blackmore, Geddy Lee, Daniel Madero, Matt Gerloff