Winter Whites
Although the Bay Area is more the land of eternal spring than it is of changing seasons, there is nevertheless a climatic shift, and when it happens, it's immediate. Last week the sun was shining, it was a lovely 70 degrees, and we were enjoying our warmest season of the year. Today, the temperature has dropped twenty degrees and the winter chill has returned. So with the change of seasons, I always think about what will be good to eat and drink to soothe my seasonal cravings. That which seems to make sense is not necessarily gospel, however.
There's a general belief out there that one is supposed to drink reds in the winter and whites in the summer. We see the ebb in flow in the wine business all the time. While it may be based on some fundamental common sense that robust reds keep you warm and that crisp, chilled whites cool you down, I can't help but believe that buying into that theory means to drastically narrow one's scope of drinking possibilities. I certainly am not one to be tied down, and I don't want you to be either.
Alsace and the Savoie in France both come to mind first—two mountainous regions where white wines are the specialty. There is just no way that these folks are avoiding whites in the winter, since white wine accounts for the majority of their production. But what are they eating to still make white wine seem appealing even when it is cold? Pork dishes with ham or bacon, quiches, flammekuche (a kind of flat bread pizza), chicken cooked in Riesling, trout, rich cheeses, tartiflette (cheese, cream, bacon, and potatoes), and that's just to name a few regional specialties. Now let's widen the culinary scope beyond France or even mountainous regions—what about duck and red curry (Thailand), pork and green chile stew (Southwest US), vegetable couscous (Morocco), turkey and gravy (USA), palak paneer (India), empanadas (Central and South America) or spaghetti carbonara (Italy)? These are hearty dishes that stand to warm anyone's belly, and a pairing with an appropriate white wine not only can enhance the meal but it also manages to offset the heaviness well.
The chief component to consider in white wine is acidity. In red wines, we use tannin to complement hearty proteins like red meat, but in whites, acidity plays an important function in breaking down foods that are salty, spicy, fatty, or acidic. A crisp white (like Sancerre or Muscadet) will be higher in acidity than a richer-style white (like a Pouilly-Fuissé or Condrieu) There are no set rules (it's always important to drink what you like), but finding the right balance makes for a sublime food and wine pairing experience. A good guideline is to match texture with texture, because too much acidity (as in the case of too much oak as well) can also ruin a dish quickly.
The good news is that there are no rules, provided that you enjoy what you are drinking with what you are eating.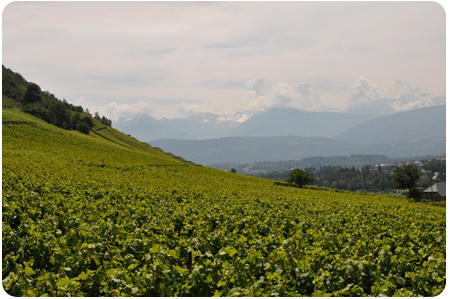 The vineyards of the Quenard family, in the Savoie
Cheese fondue is one of my favorite occasions for drinking a white over the winter. There are a few simple, easy-to-decipher flavors, so this is a great recipe to try with a few different whites. I always gravitate towards a wine from the Savoie, and my favorite here in the store is the 2010 Vin de Savoie "Les Abymes" by A&M Quenard (a mere $16.95). The wine is crisp, clean, minerally, and it also has a lovely and subtle succulence to it. The cheeses (traditionally Gruyère, Emmenthal, and/or Comté) combined yield a rich nuttiness with a divine saltiness and depth. Perfect. Les Abymes is a terrific match for it. The wine has a certain viscosity to it, but too much and it would cease to be refreshing alongside a pot of melted cheese. The acidity and mineral component seems to slice through some of the saltiness to refresh the palate.  Another good choice could be the 2010 Gentil d'Alsace by Meyer-Fonné ($17.95). The beautiful cornucopian nose of the wine adds another flavor component to this same dish, and the tiny kiss of residual sugar on the palate (just a touch) also does wonders for reducing the saltiness and perceived fattiness of the cheese. The Gentil has great crispness at the finish, which makes it as worthy a companion as the Les Abymes, while adding its own unique touch.
This said, the choices are endless. Here is a small list of my favorite go-to picks for the winter, in order of the driest and crispest to the most rich and succulent. If you have a menu in mind, please feel free to reach out to our staff for the best wine pairings.
| | |
| --- | --- |
| 2010 Bordeaux Blanc • Château Ducasse |  $16.00 |
| 2010 Vin de Savoie "Les Abymes" • A & M Quenard |  16.95 |
| 2010 Coteaux du Languedoc Blanc • Château Lascaux |  16.00 |
| 2009 Pigato d'Albenga • Feipù dei Massaretti |  19.95 |
| 2010 Gentil d'Alsace • Meyer-Fonné |  17.95 |
| 2010 Mâcon-Villages • Henri Perrusset |  17.95 |
| 2009 Bianco di Custoza "Mael" • Corte Gardoni |  16.00 |
| 2010 Bandol Blanc • Domaine de Terrebrune |  31.00 |
| 2010 Cap Corse Blanc • Domaine de Gioielli |  32.00 |
| 2008 Saint-Véran Les Pommards • Domaine Robert-Denogent |  34.00 |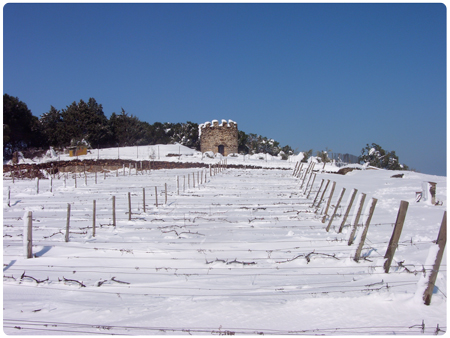 Snow at Domaine La Tour Vieille