Crock-Pot Fridays
Our guest blogger today is retail salesman, Mark Congero.
It seems that my blog posts are either about food, or my daughter, or both… For the last month or so I have been cooking up what I call "Crock-Pot Fridays" at my house. Each week I choose a different meat to slow cook and pair with a wine from the shop. Last week it was the 2008 Sciavè from Riofavara and long-cooked brisket with buttered noodles and Broccoli di Ciccio. It was a delicious combo as the Sciavè will pair well with any hearty braise. Instead of a long drawn out recipe, here is a photo journey through the process. If you don't have a crock-pot or slow cooker, get one. It is the best kitchen investment I have made in years—"Just set it and forget it."
If you can decant the Sciavè for an hour or two before dinner, go for it.
1) Cut your vegetables (carrots, onions, celery, fennel, garlic etc.)
2) Season the brisket generously with salt and pepper and brown well on both sides. remove from pan.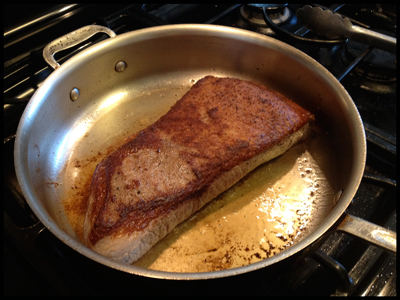 3) Leave a couple tablespoons of oil in the pan and brown the vegetables. Add three tablespoons tomato paste, cook two to three minutes.  Add half a bottle of red wine and boil two minutes. Add two to three cups hearty chicken stock and bring to boil.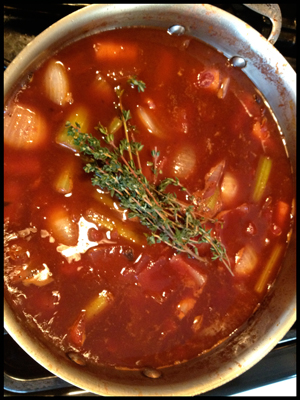 4) Put Brisket in crock-pot and pour in liquid and vegetables. Add a few sprigs of thyme and rosemary. Set for about five hours.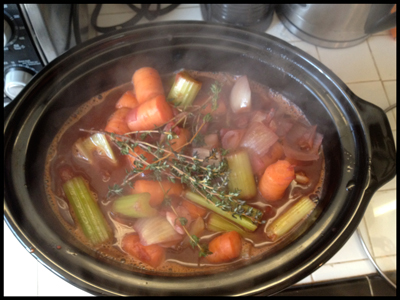 5) Remove meat and set aside. Strain liquid into saucepan and reduce to desired consistency.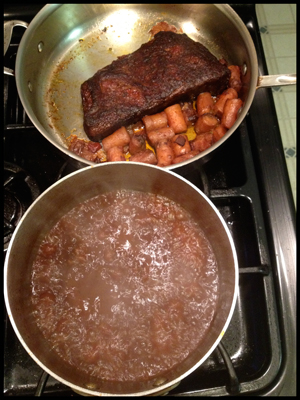 6) Cook egg noodles in salted boiling water. Three minutes before the noodles are finished add Broccoli di Ciccio to the pot and cook until both are finished. Strain leaving a few tablespoons of cooking liquid.  Toss generously with butter and a little fresh cracked pepper.
7) Place a portion of noodles and broccoli in bowl. Slice beef, place on top of noodles and ladle sauce all around. If desired, add some of the vegetables from the braise.  Enjoy with a glass, or a bottle of the 2008 Sciavè.