A Russian in the Wine Shop
Our guest blogger today is retail salesperson, Katya Karagadayeva.
People are often surprised, even suspicious when they meet me—a Russian working in the wine biz. True, it has been a while since 1889, when a Russian "champagne" wine won the Gold Medal at the Paris exhibition in the category of sparkling wines. Russians are best known, perhaps rightfully so, for their undying affinity for another beverage, the colorless type.
I have yet to find a wine that would pair well with a steamy bowl of hearty borsch with sour cream and dill. Fortunately for me, I grew up in one of the world's oldest winemaking regions—Baku, Azerbaijan, a city of strong winds, intoxicating sea air, bright sunshine, birthplace of the youngest chess champion in history, the best caviar in the world, and wine. Speaking of caviar, one particular memory always leaves me wishing I had access to a functioning time machine: my mother holding a 500 ml glass jar full of beluga caviar, trying to feed it to a finicky 8-year-old with a spoon. If I only knew then…
Azerbaijan is a small country located in the Eurasian Caucasus, on the western shores of the Caspian Sea. To the north is Russia, Iran to the south, and to the west are Georgia and Armenia. The hills and valleys of Azerbaijan hold secrets of winemaking practices that are thousands of years old, as is true of neighboring Georgia (which is often thought to be the origin of viticulture).
My country's long history of wine production was rediscovered when archaeologists dug up stone fermentation and storage vessels that included residue and grape seeds dating back to the second millennium BC. The Ancient Greeks were well aware of wine production in that area by at least the 7th century BC, if we are to trust Herodotus. Other sources, such as the epic poem Kitabi Dada Gorgud, written in the 7th-11th centuries, also describe a rich culture of winemaking. Still, the wines produced in the ancient and medieval ages were not similar to contemporary wines. They were thick and sweet as honey and had to be diluted with water. In the early 19th century, German immigrants in Russia played a key role in the development of vineyards and moving the winemaking industry forward.
I must add that out of 11 climate zones known in the world, Azerbaijan has nine. This contributes to the fertility of the land and enriches the country's cuisine. Azerbaijani cuisine has over 30 kinds of soups, a wide variety of kebabs and shashliks, as well as seasonally served vegetables and greens, and more than 40 different recipes of plov (which you might know as pilaf). Dried fruits, nuts and saffron are used in many dishes. Fresh herbs, such as mint, cilantro, dill, basil, parsley, tarragon, leeks, chives, thyme, marjoram, green onion, and watercress, are very popular and often accompany main dishes on the table.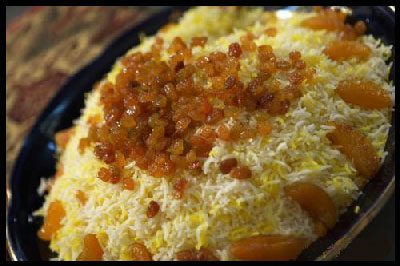 Plov
Luckily for me, my mom, an exceptional cook, prepared fresh meals for us daily, combining Russian, Armenian, Azerbaijani, and Georgian cuisines. Along with a variety of local dishes, red and white wine was always present at dinner parties and celebrations. I don't recall the wine ever being dwelled upon, discussed, or the varietals being mentioned. It was simply there to accompany the flavorful dishes, with which it paired with beautifully, and to assist the tamada (toastmaster, a person who introduces each toast) in his work of bridging the gap between past, present, and then the future during every feast. But the wine geek in me had to research, and here are some of the names of the indigenous varietals, named in most cases after the regions from which they came: Beylagan, Tabrizi, Shabran, Shirvanshakhs, Madrasas, Shahtakhti.  Kurdamir wine made from the unique Azerbaijani varietal Shirvanshakhs was one of my family's favorites.
I know a simple blog post is not sufficient to tell a story of one Russian woman in the American wine business. After years of soul-searching, completing two degrees, one in chemical engineering and one in fine arts, I found contentment in wine—a delicious and inspiring combination of art, chemistry, history, poetry, and nature. After a few years in the wine business and many more tastings came a lucky opportunity to be exposed to the best of the best, and I moved across seven of your states, Tennessee to California, to work in the Berkeley wine shop.
You can find me, Russian accent and all, happy to assist you with your wine picks and chat about jazz or Argentine tango. Just don't ask me for the perfect wine-borsch pairing. There is simply no such thing, although the entire staff keeps puzzling over it.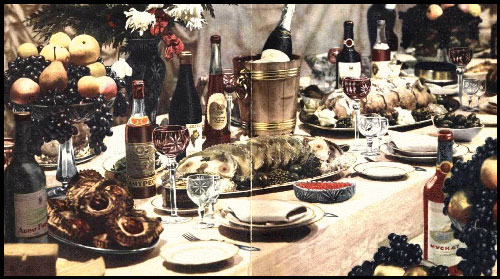 A Russian feast, photo from Tasty and Healthy Food, a 1950s Soviet Union cook book