So George Washington Walked Into This Wine Shop
I'd be curious to know the amount of people in this country that can boast they've worked retail for twenty years.  In my case, it's true.  That's a lot of "Can I help you find anything?" for sure.  The beauty of retail for me, quite simply, is in the continual interaction with human beings.  Yes, talking about wine is a helluva lot of fun, but there are also plenty of special moments, those "it's a small world" encounters that bring you closer to someone, and sometimes without having really much to do about wine.
I'm a big fan of history and during a recent visit to see my family in Philadelphia I read a great article in the Philadelphia Inquirer.  In a nutshell, the article presented research by a historian that the well known painting of George Washington stoically crossing the icy Delaware River on Christmas night 1776 (can you picture it?) to sneak-attack the Hessians encamped in Trenton, NJ, was most likely inspired by a previously painted much larger rendition.  Robert Douglass Jr., an African-American artist, was commissioned and painted a large transparency of Washington's crossing of the Delaware to hang from Independence Hall at the end of a parade commemorating Washington's 100th birthday in 1832.  Most likely in the crowd that day was fifteen-year-old Emanuel Leutze, who lived in Philadelphia, and in 1851 painted the iconic version of Washington's crossing that is now world-renowned.  The point of the article was to bring awareness to Douglass's accomplishment and highlight this otherwise unknown American artist.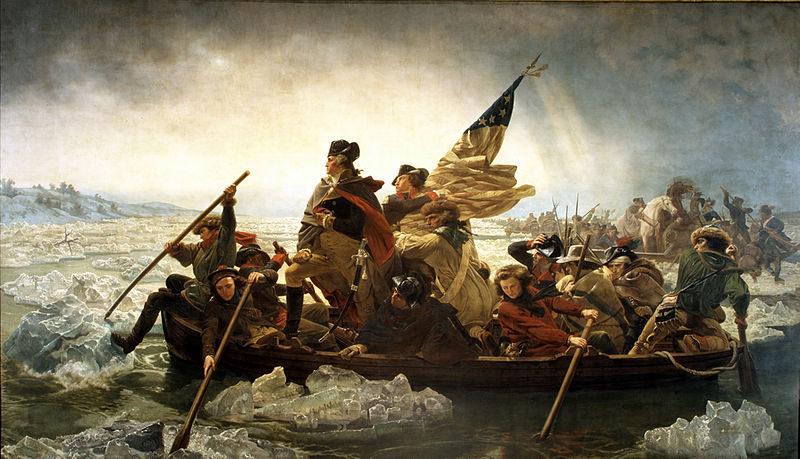 Washington Crossing the Delaware, Emanuel Leutze
I came back to work with this fascinating nugget of information in my head and walked into a conversation between Michael Butler of KLWM and Jack Von Euw, a long-standing client.  Jack, who was busily putting bottles of wine on the counter, is a curator at the Bancroft Library in Berkeley and was explaining to us how the library years ago had found this huge painting of George Washington rolled up behind the bleachers in a gymnasium on the Cal campus.  It was decided to have it stretched out and mounted on the wall inside the library for all to see again.  Jack wasn't even half way through his story when I blurted out, "I just read this fascinating article about the real inspiration of that famous painting of Washington crossing the Delaware."
"You mean the Emanuel Leutze painting?", Jack said.  "That's interesting, because the painting I'm talking about was the companion piece that originally hung with the Washington's crossing painting back-in-the-day.  It was purchased and brought to California by Mrs. Mark Hopkins in the late-nineteenth century and was eventually bequeathed to Cal."  I had known Jack worked at the Bancroft but had no idea he was the curator in charge of pictorial collections.  We had never even discussed art before.  Small world, indeed.
My world got even smaller when I decided to email the historian of the Douglass article, Phil Lapsansky, of the Library Company of Philadelphia (founded by Ben Franklin), and share this connection with him.  Phil was pleased and remarked (like only a historian can!), "what a serendipitous convergence of events and interests!"  Talking with Phil also gave me the opportunity to ask questions about some historical monuments I had noticed on my trip to Philadelphia.
But the icing on the cake for me was after a long lunch at Chez Panisse with my wife, I had to go and see the other Leutze painting.  It is entitled, "Washington Rallying the Troops at the Battle of Monmouth, 1778," and hangs in the Heynes Reading Room in the Doe Library, which is a separate building attached to the Bancroft.  Jack met me and we both gazed in appreciation of the large work and pointed out the various significances of the painting.  Suffice to say, Washington looks pretty heroic in it.  It is no where to be found but I would love to see Robert Douglass Jr.'s depiction of Washington's crossing.  Who knows, maybe it's rolled up and hidden somewhere in Philadelphia?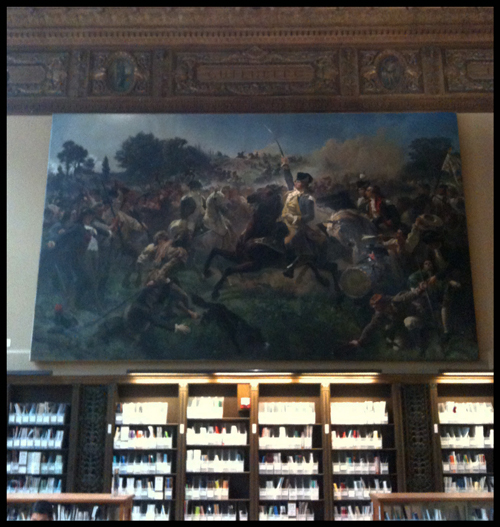 Washington Rallying the Troops at the Battle of Monmouth, 1778, Emanuel Leutze