Donuts & Coffee, New From Quincy, B-Sides from the Bruniers, Wondrous Giamello, Stunning Nebbiolo
The September Newsletter is now available.
Click here to download the PDF.
DRINK LIKE A TRUE CORSICAN
by Chris Santini
2009 CORSE CALVI ROUGE "e prove"
DOMAINE MAESTRACCI
While I am always a fan of easy-quaffing reds, there are times, especially around a meal, when you want some meat on them bones. Well, here's one for the robust, full-of-fruit-and-Mediterranean-sun category. A manly man's wine. Put on some James Brown (you know which song I'm talking about), pull up a chair, light a cigar, put on some dark shades, and while your mamma cooks you up tagliatini in the kitchen, you simply pour yourself a tall glass of this vivid red and sit back like you own the place, Corsican style.
$22.00 per bottle $237.60 per case
2011 ÎLE DE BEAUTÉ
BIANCU GENTILE BLANC • YVES LECCIA
Biancu Gentile is a survivor. A native Corsican, banished from the land by various colonial invaders who decreed the use of higher-yielding foreign grapes, then cultivated in secret by a handful of rebellious peasants, Biancu Gentile was left for dead by the authorities for centuries. Praise be to those rebel souls who saved the grape. It doesn't get much more Corsican than this, a grape that truly soaks in the pungent maquis, with wisps of the sea and hints of the Corsican earth. Yves Leccia and Antoine Arena lead the Biancu Gentile renaissance.
$34.00 per bottle $367.20 per case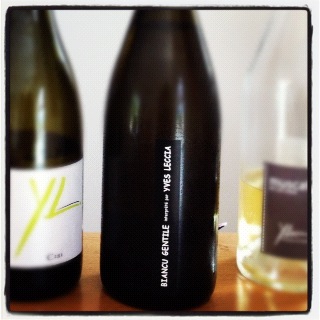 2011 ÎLE DE BEAUTÉ ROUGE • YVES LECCIA
A client recently wrote to me after tasting this wine in Corsica that if she had to choose one wine to show friends what Corsica smells and tastes like, she would uncork this stunning red. She listed the scents and flavors of "eucalyptus, sage, mint, lavender, thyme, saline, geranium, dark woodsy berries and a flinty finish," as well as my favorite: "fatty sheep woodsmoke." That must be lamb fat dripping on hot coals. Sounds good to me. She ended her email with "Can you tell I loved it?" I'll second that emotion.
$26.00 per bottle $280.80 per case
For the Jaded Palate
by Graeme Blackmore
2010 FiÉ Gris • Éric Chevalier
The palest straw color. Effusive gooseberry and nettle aromas. Even a wet grassy note. Telltale signs that make guessing the varietal seem almost too easy. But right before your first sip, a hint of honeycomb wafts up from the glass and you hesitate momentarily. Just then, as the first drops hit your tongue, the bright acidity races your mind straight back to Sauvignon Blanc and any doubts are dispelled. It was that simple after all—thirty seconds, job done, next wine please.
Not until the unctuous ripe fruit coats your palate does the confusion properly set in. The only saving grace is that your mouth is now full of wine and you haven't had a chance to blurt out the varietal to the rest of the table. The striking contrast between bright citrus lemon and baked apple flavors melding with heady exotic fruits is marvelous and delicious. But you have a good excuse, because how many have ever tasted a Fié Gris?
$24.95 per bottle $269.46 per case
2011 Rosé de Loire
"La Ritournelle" • c. ET p. Breton
We've all had the experience at a concert or show where the headliner is outdone by the opening act. Often it's a revelation and we find something new that we weren't expecting. No surprise that it's a Breton wine I have in mind when thinking of this. Their rosé really is, well, something else. The bubble is a mere accent rather than an emphasis, and sweeter cherry flavors finish with a fine lemon cut. Versatile is not an adequate way to describe this wine that carries itself from apéritif through dessert. Try irresistible.
$22.00 per bottle $237.60 per case
2011 Vin de Savoie "Les Abymes"
A. & M. Quenard
The sheerest pale gold hue of the Jacquère varietal is matched in beauty by an aroma redolent of lemon and green apples. Citrus fruits are wrapped in a lithe structure and balanced by a harmonious texture. The crystalline pure minerality is a trademark and a pleasure.
$16.50 per bottle $178.20 per case