Harvest 2012 – Château de Bellevue
Over the next few months, we'll update you on how harvest 2012 is going in France with our producers. It is a busy time of the year so we know we are asking a lot for them to keep us in the loop on how things are going.
Sauvignon Gris ready for harvest
We'll start off this series with one of our Bordeaux producers—Château de Bellevue. Vigneron André Chatenoud first wrote us in early September, letting us know that he would start harvesting his white wines in between September 15 and 20 and his reds in early October. On September 17, he sent us this update with photos:
Last Tuesday we picked 400kg of Sauvignon Gris to make a pied de cuve. The Sauvignon Gris grapes are looking very good and we will harvest them this week. The weather conditions are superb so I think that, despite the rainy spring, we will be able to make a very good wine.
A pied de cuve is a "starter tank"—it helps prime the wild yeasts so when the rest of the fruit is harvested, fermentation can quickly get started. In the photos you'll see the Sauvignon Gris in a basket press, then the grapes being pressed, and the juice being pumped to a tank. Note the color of the Sauvignon Gris—it has a grayish-pink tint (similar to Pinot Gris) even though the final color is white. For small batches of grapes it is quite common to still use these seemingly antiquated basket presses (even in the U.S.).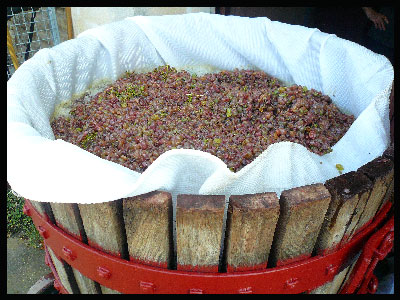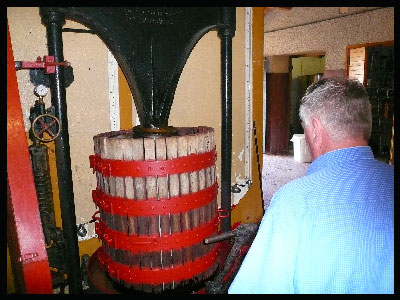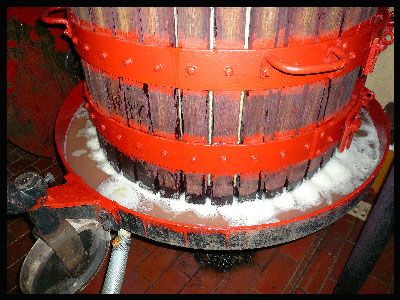 Sauvignon Gris used to be widely planted in Bordeaux but was slowly replaced by the more popular Sauvignon Blanc. André planted his parcel in 2006 and the results have been exciting.
A few days later, André sent us photos of the native yeasts under a microscope and how they are multiplying on the fermenting wine.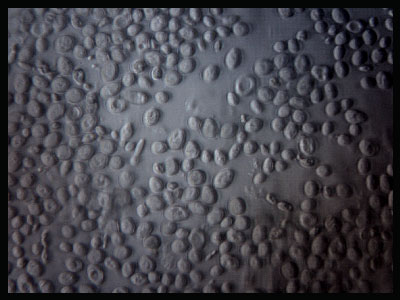 André said, "The Sauvignon Gris has been harvested and the quality is superb. Fermentation is off to a good start and the aromas are very pleasant.