Tasting in the Jura
My visit to Domaine Ganevat was eye-opening, mouth-watering, and, if you'll pardon the expression, bladder-filling. I arrived in the morning following a discouraging restaurant meal the previous night featuring supermarket-brand Comté (the local cheese), melted-cheese-laden sausage, and hair-infused lukewarm crème brulée. In spite of the picturesque pastures on the hazy rolling hills surrounding me, I felt uneasy when Jean-François examined me with a look in his eye that asked, "Who the hell are you?" Finally he came around with an "Ah—I thought your visit was next week."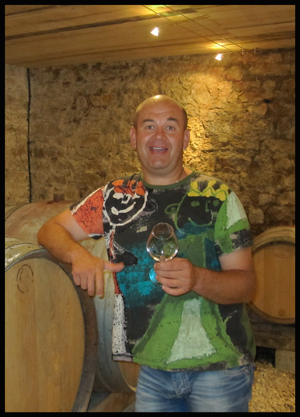 While he was busy helping his crew bottle the '09 vintage, I tasted wine after wine—the whites each conveying purity, freshness, and minerality unlike anything my palate had ever encountered. I was astounded at the paradox inherent in each wine: full-bodied yet crisp, rich yet focused, fleshily fruity yet bone-dry and stony, complex yet eminently drinkable. I tasted only a portion of the many cuvées produced, each with its own distinctive personality. The differences lay in the variety (usually Chardonnay and/or Savagnin), the parcels (exposition, soils, age of vines…) and the level of oxidation (from a Burgundian style to a more traditionally Jura level of oxidation).
Each time Jean-François dipped the glass thief into a new barrel and eased the unfiltered liquid into my vacant glass, he said casually, "Once you finish this one, you can taste the next one." Finish? 'Taste?' Nonetheless, it seemed completely appropriate to be drinking glass after glass of Ganevat's wine at 11AM (although I admit to occasionally dumping my glass behind my back when nobody was looking as I had a 2-hour drive coming up and wanted to remember which side of the road to drive on). We moved on to his Poulsard rosé, a crisp juice bestowing pleasure like no other. The reds came next, also delightfully fresh to the point that 'wine' did not seem like the appropriate word. A Pinot Noir brought to table paired excellently with the rabbit Jean-François' mother cooked for lunch. The cheese course, featuring a genuine Comté, married perfectly with the Jura's famous Vin Jaune—each rich, creamy bite washed down by the wine's nutty caramelized finish.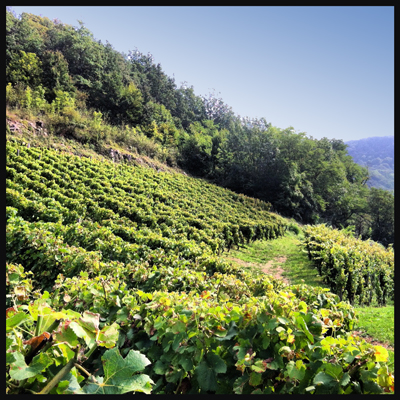 Old vines at Domaine Ganevat
Upon returning to the U.S., I witnessed the Jura beginning to experience a breakthrough on the wine scene. The bottles I have tasted since always offer something different, putting in evidence the wide range of styles available. The one thing they all share in common is that they are awakening, due not only to their refreshing acidity but also thanks to the way they stand out from the other wines produced in France and across the globe. The Jura wine scene is intriguing in the best sense of the word, and I am constantly thirsty for more.