June Newsletter Now Available Online
The June newsletter is now available! Download the PDF by clicking here.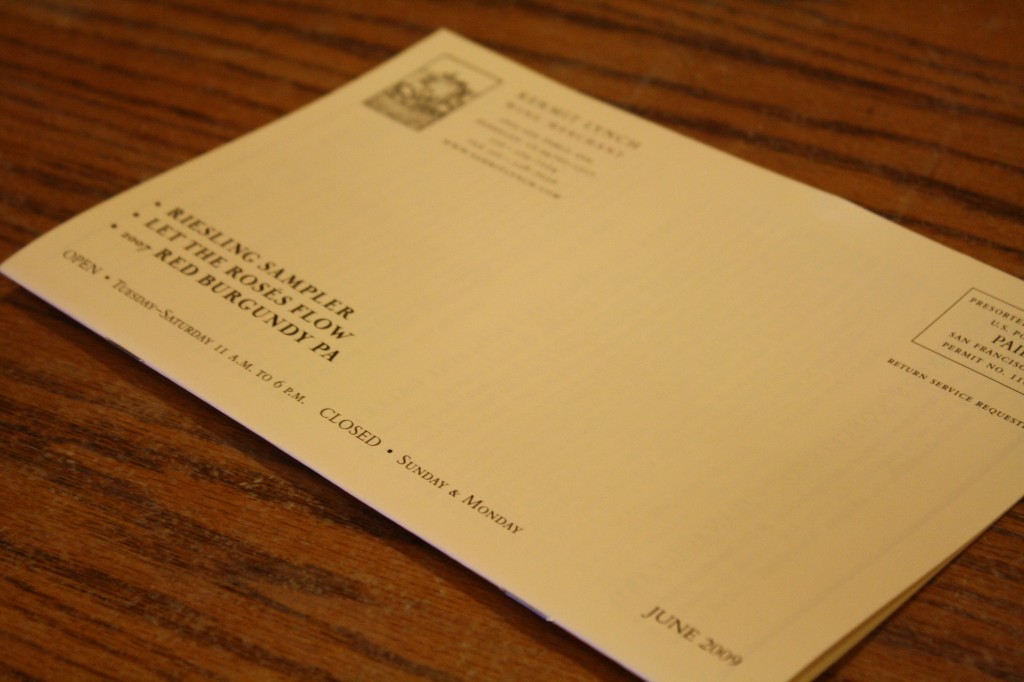 Highlights from this month's newsletter…
Pre-Arrival Red Burgundy
by Dixon Brooke
I think the time is ripe to revisit the annals of KLWM wine lore for our own version of the vintage chart. The truth is that Kermit did publish one, but it was only a blank sheet of paper. Cheeky, yes, but it illustrated a point that we drive home to our clients every day. Vintage variation, especially in a country that doesn't allow irrigation, is what gives us an amazing diversity of wines in each region of France. Each vintage, no matter how little or how much it is lauded, has its strengths and weaknesses. … All this to say, if you buy our Burgundies, buy them every year, get to know the nuances, and you will always be rewarded. The 2007s are about Burgundy's fabled finesse, the expression of its terroir, and the magnificent Pinot Noir flavors.
On pre-arrival this month:
2007 Domaine Jean-Yves Bizot • Vosne-Romanée
2007 Domaine François Bretheau • Chambolle-Musigny
2007 Domaine Robert Chevillon • Nuits-Saint-Georges
2007 Domaine Pierre Guillemot • Savigny-Les-Beaune
Riesling Sampler
The first KLWM varietal Sampler! When we recently received some very stylish Rieslings, it occurred to me to attract attention with a Sampler. Most of my readers need no introduction to Alsatian Rieslings, but to those of you new to French wines and used to labels that feature the grape variety, you will learn here (and enjoy learning) what France's pure Rieslings are like.
To those already initiated, here's a chance to taste six new beauties from top-flight winemakers … at a 25% discount.
2007 Riesling "Tradition" • Kuentz-Bas $16.95
2006 Riesling D'Epfig • André Ostertag $18.95
2006 Riesling "Katzenthal" • Meyer-Fonné $26.00
2006 Riesling "Pfoeller" • Meyer-Fonné $36.00
2006 Riesling "Muenchberg" Grand Cru • André Ostertag $62.00
2006 Riesling "Wineck-Schlossberg" Grand Cru • Meyer-Fonné $34.00
Six-Bottle Sampler
Normally $193.90
Special Sampler Price $145
(a 25% discount)

2008 Rosé: Heads Up, Here They Come!
2008 Bandol Rosé • Domaine de Terrebrune
Here is Monsieur Delille's take on his 2008 rosé: "Pale salmon-flesh color; delicate aroma-zest of red grapefruit and lemon; exotic, spicy character. Great plenitude of flavors including passion fruit, and a beautiful minerally freshness which comes from our limestone soil."
$26.00 per bottle $280.80 per case
2008 Coteaux du Languedoc Rosé
Domaine du Poujol
Finally, a wine with a screwcap that doesn't stir up the Kermudgeon in me. You pour, you sniff, screwcap forgotten.
This is a great SUMMER rosé. No cloying heaviness, lively as can be, dazzling with freshness on your palate, and I like that little stony edge.
$13.95 per bottle $150.66 per case
2008 Bandol Rosé • Domaine du Gros 'Noré
Speaking of our pugilist from Gros 'Noré, he told me to tell you that he let his enologist go and has completely changed his rosé vinification. I tasted the '08 in December and was KO'd by it. It seemed sorta … well, saucy like in a saucy dame. You know how a wine is supposed to express the character of the winemaker? Maybe ex-boxers attract saucy dames and make saucy rosés?
$27.00 per bottle $291.60 per case