Portland's E&R Wine Shop
After a whale of a CD release party at the Great American Music Hall in San Francisco on October 7, Kermit is now embarking on a CD release tour of sorts. We have a few CD listening parties/wine tastings planned around the country and it all starts on October 16 when Kermit will make his first public appearance in the great state of Oregon. Kermit then visits NYC for the week of October 26, then to Austin, TX, on November 9, and Nashville, where Man's Temptation was recorded, on November 11.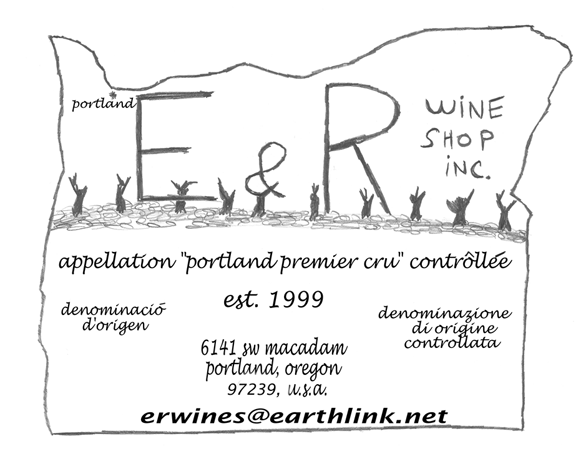 Playing host to Kermit's event in Oregon is Portland's E&R Wine Shop. Started in 1999 by Ed Paladino and Richard Elden, E&R focuses but does not limit their wines to selections from France, Italy, Spain, Australia, and Oregon. Ed and Richard have an intense drive to find new wines for their customers. They taste an average of 80 wines a week and typically only put about 3 into stock. In finding new wines for the shop, they said "we do not wait for someone to bring a wine to us to taste, we frequently contact wineries here and abroad to source them directly." Naturally and thankfully, our wines fit seamlessly into their style.
E&R produces a well read and very entertaining series of newsletters. At this time they write three newsletters: the E&R Explorer (wines from around the world), the E&R Italy Review, and the E&R Pinot Noir-egon Rap Sheet.
Their most recent E&R Explorer, written as a series of informative albeit idiosyncratic letters from Ed to Kermit, chronicles Ed's experiences visiting our Berkeley shop in the 80s and 90s, discusses Kermit's love of music, and outlines the large selection of Kermit wines they sell.
Here are some quotes from the E&R Explorer on Kermit Lynch:
Ed's first experiences visiting the shop:
My work in those days brought me to Berkeley twice a month (from 1985 to 1998) and I found myself stoppin in more often and pickin out a bottle here or there because of the voice behind the words, something was hoverin there and anyone with a single brain cell could sense it. One cannot read, be alive, like wine, and not want to buy every damn bottle in Kermit's brochure (newsletter).
Ed interviewed Kermit and asked him, as he put it, "a series of stupid questions":

Ed: What is the cd or record you would take with you to a desert island, and what book?
KL: Either Jimmy Reed at Carnegie Hall or the last Beethoven piano sonata. Book? The Three Musketeers, the original, adult version.

Ed on Kermit's new CD, Man's Temptation:
"Man's Temptation" is one of those discs you enjoy more with each listen. Partly because the singer is new to you, partly because of its wide cross-section of songs, and because the set of songs is superb; each is beautifully performed.
If you're in the Portland area, don't miss the event on the 16th. Here are the details:
Kermit Lynch in Person @ E&R Wine Shop
A "Kermit Wines" Wine Tasting
&
CD Release Party
Friday, October 16, 5:30 – 7:30 PM
Join us and Kermit in a tasting of 15 of his wines from France. Celebrating 37 years of selling, importing and loving wine, and celebrating the release of his second CD "Man's Temptation." Kermit will be in the house, tasting and talking. We will play cuts from the new CD. Kermit will chat about wine, talk music, sign his books, and autograph his CD.
$20 per taster or tasting
OR
$27.50 per taster with CD ($14.00 regular CD price)
Please call E&R at 503.246.6101 for more info and tickets
E&R Wine Shop | 6141 SW Macadam Ave | Portland, OR 97239
If you'd like to get your own copy of the E&R Explorer on Kermit Lynch (all 28 pages with photos!!!), send them an email with your mailing address to [email protected].