White Burgundy? No Better Investment Than Cherisey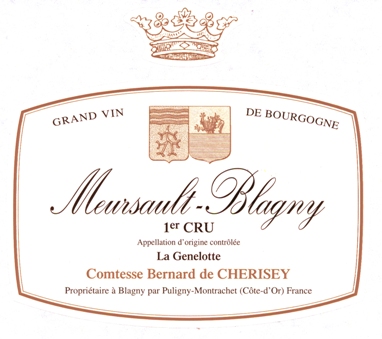 It isn't very often that we find a new producer of white Burgundy, making wines as good as the best names in the Côte de Beaune. His name flies completely under the radar and his modesty of demeanor and price leaves you gasping for comprehension when you taste the brilliance of his wines.  Laurent Martelet of Domaine de Cherisey is just that man, and we're here to tell you that there is no better investment in white Burgundy than getting your hands on some of his 2007s that are among the best of the Côte.  Hopefully you have experienced his 04, 05 and 06s so you are somewhat prepared for the fireworks that these wines deliver.  These will be very long-lived gems, so stock up while they are still affordable! Earlier in the year I posted on a visit to the Cherisey property. Check it out to learn more about this great domaine.
2007 Domaine Comtesse Bernard de Cherisey
2007 Puligny-Montrachet "Hameau de Blagny" Premier Cru  $63.00 btl/ 756.00 case
2007 Puligny-Montrachet "Les Chalumeaux" Premier Cru    63.00 btl/ 756.00 case
2007 Meursault-Blagny "La Genelotte" Premier Cru   63.00 btl/ 756.00 case
Call 510.524.1524 to place an order.
Pre-arrival terms: Half-payment due with order; balance due upon arrival.