The Saveur of Savennières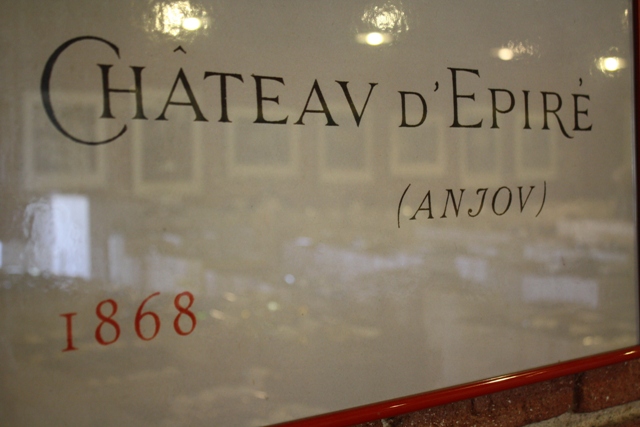 Saturday night I planned on watching the Alabama – Tennessee football game and my wife, slightly less excited about the prospect than I was, asked if I would go pick up some oysters in Beaune for a pre-game treat.  Who was I to say no?  Why not make it a gourmet game day experience.  When in France, right?  I was thinking of pulling a bottle of Chablis from the cellar but I already had a chilled bottle of the 2006 Savennières "Cuvée Spéciale" from Château d'Epiré that I had just ordered from the domaine and I figured it might have just the minerality we were looking for.  It was a vintage that had done its malolactic fermentation, a rarity at Epiré, so I still needed to taste to be sure.  Man was it good!  And it wasn't lacking in nerve so we put the pairing to work.  But we actually decided that it was almost too complex for the oysters.  Well-chilled, it had a perfectly austere minerality that complemented the oysters beautifully, and just enough fat.  Some of the nuances were being lost among the brininess though.  Then I thought of the perfect solution – I could just walk out my front door and across the town square in Meursault to the butcher shop and buy a few slices of homemade foie gras.  That's just what I did.  The Epiré really started to sing and work its magic with the duck liver.  Unfortunately the bottle didn't last until the cheese course….
This wine is a rarity in the wine world – it has the complexities and aging potential (20 years plus) of a wine many times its price, but it isn't expensive.  We have been telling you about it for years.  But the wine still hasn't really caught on, much to our surprise and dismay.  The string of recent vintages, 2006-2008, have been spectacular, and it just isn't right for you not to experience them.  How many wines can you think of that can easily shine with both oysters and foie gras?  (Richard Olney liked Yquem Sauternes with oysters, don't knock it 'til you try it!)  A bottle of Epiré Savennières is most fun when you let it challenge you a little bit, and it almost always will.  This is one of our great dry whites and it deserves your attention. The 2008 "Cuvée Spéciale" just arrived in the Berkeley retail shop and runs $22.50 a bottle.