Missteps Along The Wine Route
Today's guest blogger is Steve Waters, the retail shop manager…
A funny thing happened on my first adventure on the wine route in 2001 working for Kermit Lynch Wine Merchant.  For years I have been dying to tell this story about a slight case of miscommunication between two people.  I've changed the names of the characters, but the gist of the encounter is completely true…
I started my wine tour in Alsace and headed south through the Côte d'Or, Beaujolais, Lyon, and then to the stark hillside vines of Cornas and Hermitage.  I was in the town of Tournon, in the northern Rhône, having a wonderful dinner with friends at Le Chaudron, a small, traditional French brasserie with a stellar selection of local wines.  After opening another bottle of Domaine Philippe Faury Saint Joseph Rouge, a producer Kermit brings into Berkeley for our drinking pleasure, my friend Sylvia's cell phone rang.
"Hello, Sylvia?  It's me, Chuck!  I'm here, I'm here!  I can't believe I finally made it!"
"Great to hear your voice, Chuck," Sylvia said.
Chuck continued to rant, "I'm here, I'm here!  Where's your apartment?!"
Sylvia tried to calm Chuck down, "Chuck, please, I'm in a restaurant with a friend, Steve Waters, who works for Kermit Lynch in the Berkeley store.  Where are you anyway?"
"I'm right here, just pulled in. I can see palm trees, the Mediterranean, French sailors walking along the quay.  Oh my god, I think I just saw Richard Olney!  The sun is setting…what a beautiful place you live!!!"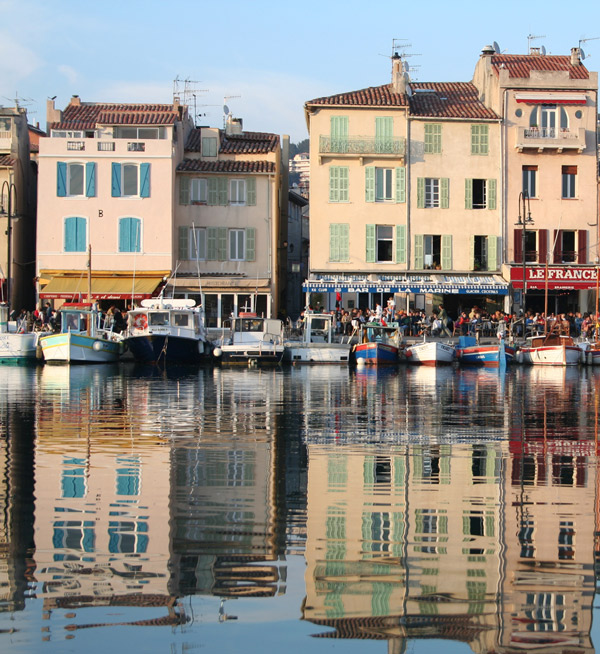 The Mediterranean
Sylvia looked up from her plate of Tête du Veau with an expression of utter shock.
"Palm trees?  The Mediterranean??  Chuck, where the hell are you!?!"
"I'm in TOU-LON, en Provence!!!  I can't wait to see you!  Order up a glass of Bandol rosé for me, I'll be right there!"
"Toulon?!" Sylvia said exacerbated.  "Chuck, I live in TOUR-NON!!!"
In one day Chuck drove all the way on the autoroute from Paris to Toulon, overshooting his destination, Tournon, by a sizable three hundred kilometers!  He proceeded to jump right back in his car and return north to Tournon, arriving safely, yet bleary-eyed, a few hours later.
The northern Rhône
The moral of this story folks is that there is a lot of research that should be done prior to embarking on your next trip to France or Italy.  Make sure that you buy some bottles that represent the towns and regions that you will be visiting.  After pulling the corks, pour over some maps and let your imagination run wild with the thought of what lies ahead during the twists and turns of your upcoming adventure.  Don't be a "Chuck!"