White Burgundy Denial
Isn't admitting a problem the first step to overcoming denial? So I'll be honest and admit that although I am a wine professional, when I hear the words "white Burgundy," my brain automatically goes to the Côte d'Or and Chablis. That's a good way to irk my boss.  How could I have forgotten the Côte Chalonnaise and the Mâconnais, two white Burgundy appellations that have distinctive merits and are just as interesting at table as their neighbors to the north? The subtle irony here is that I drink wines from the Mâconnais, and specifically the wines of Domaine Robert-Denogent, more than any other white Burgundy. I also hold these wines in high esteem for their incredible quality, individuality, and excellent prices. We carry a number of Robert-Denogent's first-rate Pouilly-Fuissés in half-bottles and that's regularly what I turn to on a solo Tuesday night in my Berkeley studio.
The worry when importing a wide range of one producer's wines is that they might all taste the same. It happens. Thank God for the Robert-Denogent winemaker, Jean-Jacques Robert—he is a master at bringing out the differences between each of his terroirs. Jean-Jacques' single vineyard bottlings are just one of many reasons that the Mâconnais is starting to get the attention it deserves. The quality is so spectacular that some of Jean-Jacques' vineyards are being considered for creating a premier cru appellation in the Mâconnais.
His 2008s recently arrived in Berkeley, and we all tasted them the other night. Here, then, are one taster's highlights:
2008 Mâcon-Solutré "Clos des Bertillones"
Jean-Jacques describes his Mâcon-Solutré as a "perfect shower wine." I think he stole that term from his good bud, Marcel Lapierre, who also describes one of his wines in that way. What Jean-Jacques means is this is an easygoing, drink-it-anytime kinda wine. We're into that sort of thing here at KLWM and this wine delivers the goods. The fruit is fresh and pure, and the touch of mineral reminds you that yes, you are drinking white Burgundy. Despite the Mâcon-Solutré's easygoingness, Jean-Jacques asserts that it ages well. I'd drink it now through the next four years.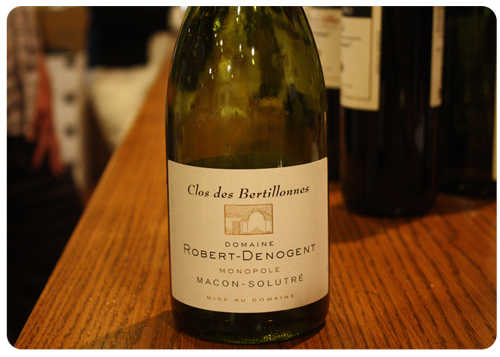 $28.00 per bottle $302.40 per case
2008 Pouilly-Fuissé "La Croix"
Pouily-Fuissé La Croix is distinctively different from the other Denogent bottlings. From the first whiff, you'll notice a profound, rich mineral. This characteristic is so striking that you might second guess that what you are drinking is indeed white Burgundy—it dramatically stands out amongst the other Denogent wines. The terroir is completely different than Jean-Jacques' other holdings. La Croix vines tap into blue schist and slate while his other holdings are primarily clay and limestone. The vines also clock in at around 80 years old—those are some old vines! This is the most stony, earthy, down and dirty bottle of the bunch. Kermit drinks some and ages some each year—see why for yourself.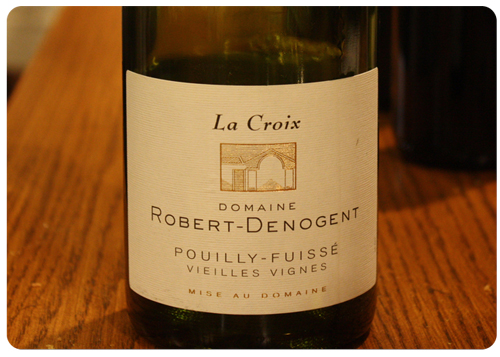 $36.00 per bottle $388.80 per case
2008 Pouilly-Fuissé "Les Reisses"
Les Reisses is one of Jean-Jacques' holdings that are up for 1er cru consideration. He is very proud of this vineyard and has been making wine from it for years. This vineyard is also a monopole, a vineyard that Jean-Jacques owns in its entirety. Monopoles are exceptionally rare in Burgundy, and in this case, you can rest easy knowing that any bottle of Les Reisses you come across will be from Denogent and it will satisfy. Enticing on the nose, this wine exudes white flower and white peach aromas. The palate gives way to a focused, balanced, earthiness and texture that lasts and lasts. Share this bottle with just one person. The experience will provide much fodder for conversation as the wine breathes, develops, expands, and seems to reveal some maturity over a few hours.
$38.00 per bottle $410.40 per case