Ligurian Feast
We're gearing up for our big event this weekend, Punta Crena Day, and just heard from chef Christopher Lee about what he'll be cooking up for us—a Ligurian fish stew, made with local rockfish, simmered with olives, capers, wild fennel, and sweet dried peppers. Accompanying that will be grilled sea salt focaccia and roasted dry farmed tomatoes with basil pesto. I can't quite imagine a better wine pairing than the wines from Punta Crena, made by the guest of honor, Paolo Ruffino. Here's what we'll be pouring:
* Two sparklers—the 2009 Lumassina and 2009 Pettirosso Rosato
* Two whites made from Ligurian grape varieties—the 2009 Mataòssu "Reiné" and the 2009 Pigato "Ca Da Rena"
* Two reds, also made from classic Ligurian grapes—the 2009 Rossese "Isasco" and 2009 Cruvin Rosso
You might have wondered what "Punta Crena" means. In Italian, Punta means "point." In this case, it refers to the "point" that is a landform—a peninsula.  Crena is simply a name and has no meaning in Italian or the local Ligurian dialect. Below you'll see a picture of the "Punta Crena" as well as a few shots of Paolo in his vineyards. We hope to see you Saturday.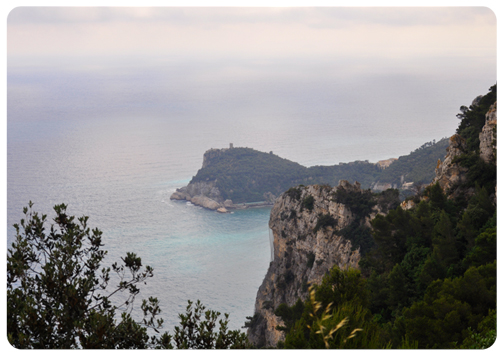 The Punta Crena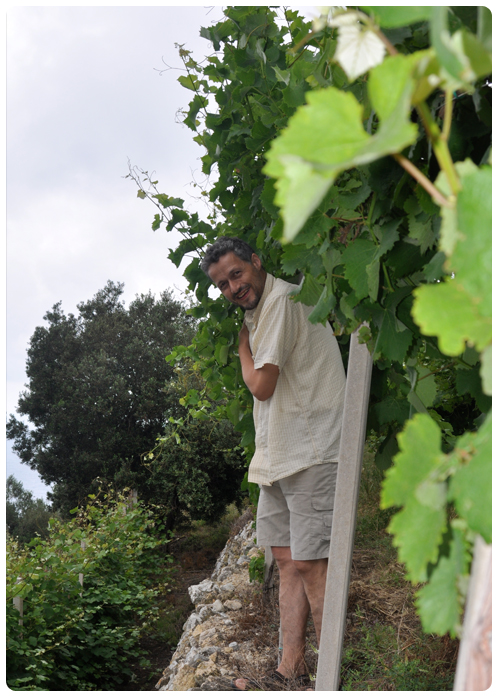 Paolo in his Mataòssu vineyard. This vineyard is planted on steep terraces, with olive trees, all overlooking the Mediterranean.