A Crusade for Alsace Part I
If you are a regular reader of the Kermit Lynch newsletter, you might be aware of Dixon Brooke's reverence for the wines of Alsace. He regularly extols the many virtues of our three Alsatian domaines and recently wrote:

"Forgive me if I seem to be playing a familiar tune, but I am determined to turn more wine lovers on to Alsatian wines. It has become a bit of a personal quest. There are so many things to love: the beautiful countryside and villages, a slice of unique French culture with a delicious and unusual cuisine, … a preponderance of organic agriculture, and above all, hauntingly delicious wines."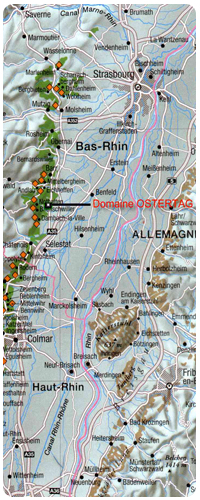 Dixon, you are forgiven! And if you will have me, I'd like to join your quest. Alsace is arguably the most misunderstood wine region in France—more so than Beaujolais. The diversity of grape varieties and soil types, number of lieu dit and grand cru vineyards, and no indication as to whether a wine has a small or large amount of residual sugar can lead to pure confusion for many a potential customer. To hopefully provide some clarification on some of these issues, I will write a three part series that will focus on each of our Alsatian domaines and start here with Domaine Ostertag.
When André Ostertag visited our shop in July, I asked him what is the most important thing that our customers should know about his wines. He shrugged his shoulders while reflecting and then said, "The sign of a good wine is one that when you drink your fill, you sleep well, and wake up clear-headed. That's how my wines are."
During our chat, we discussed the status of Alsatian wines in the U.S. and the misconception that Americans have that all wines in tall, skinny bottles must be sweet. André understands where this idea comes from, because he's been selling his wines in the U.S. for 30 years. He blames it on a prevalence of low quality wines coming from the region, which irritates him.
André did some training in Burgundy, as is evidenced by his wine's austerity and his unique vinification. With the exception of his Gewurztraminers, André's wines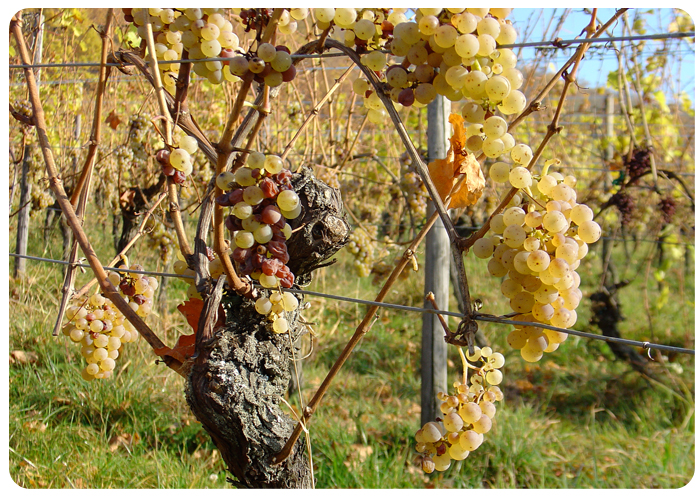 are completely dry. To attain a dry style and keep the alcohol levels low, he picks his fruit earlier than his neighbors. Like white Burgundy, André's wines are deeply focused on terroir, exuding flinty, wet stone aromas, with a serious ability to age.
Dryness, or a lack of sweetness isn't the only aspect of the Ostertag wines that set them apart from your average Alsatian bottling. André vinifies his Pinot Blanc, Pinot Gris, and Pinot Noir in a Burgundian style, which means they are aged in oak barrels. Now before any purists out there decry André's methods as "new world," "score digging," or anything else, please read on. He uses 5 to 20% new oak during the aging process (otherwise known as "hardly any" in the biz). Because Pinot Blanc, Gris, and Noir are Burgundian grape varieties, André feels that they benefit from the natural micro-oxygenation that the oak provides. The wood helps the wine breathe, which adds depth and complexity. Not all grapes should be aged in wood and as we all know, oak can easily be overdone. His Pinot wines simply would not attain the level of complexity that they do if he was to vinify and age them in stainless steel. André is also a sculptor and uses an artistic analogy to further explain his methods: "If wine is a statue, the oak is the foundation, and the wine is the art."
He grimaces when I mention the image many have of Alsatian wines—flabby, over-done, tropical, cloying. If you're interested in precision, minerality, low alcohol, and a good night's sleep, then I'd recommend starting with André's 2009 Sylvaner Vieilles Vignes. You will be hard-pressed to find a better representation of this little-known grape variety. The stunning freshness, hints of smokiness, and easy quaffability will seduce you. In my opinion, some of you will be enticed to delve deeper into André's wines and explore his single vineyard bottlings, including his most profound creation from his grand cru Muenchberg site.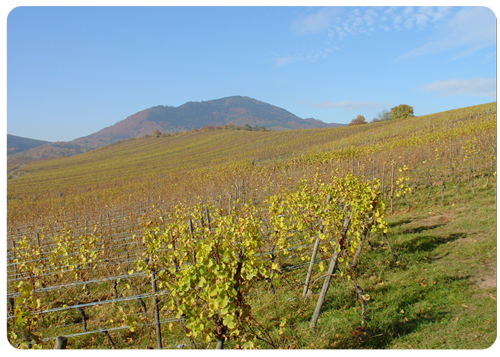 Upper left: Map of Alsace and location of Domaine Ostertag. Middle right: Late harvest grapes in the Muenchberg vineyard. Bottom: The Muenchberg vineyard in autumn.