Into the Eye of the Strike: Départ
This post marks the first in a series written by Dixon Brooke, detailing his adventures this week, navigating the French transportation system that is currently on strike.
Saturday, October, 23rd, 9:30 am
I moved back to Berkeley, CA from France a month ago, after 4 ½ years in the foreign legion.  I'm writing this morning from Berkeley, as I contemplate a long-planned trip back to France to blend our 2010 Beaujolais Nouveau at Domaine Dupeuble and our 2009 Saint Joseph Rouge cuvées at Domaine Philippe Faury, among other visits stretching the Rhône Valley from Ampuis to Gigondas.  The trip has the potential to be quite interesting as France is currently embroiled in one of the biggest mass strikes the country has seen in 40 years.  The French are protesting the current administration's proposal to raise the minimum retirement age from 60 to 62 years.  The winemakers I'm visiting will of course have no involvement in the strikes.  They often work well past that age and don't have time for protests anyway.  They are too busy in the vines and cellars.  As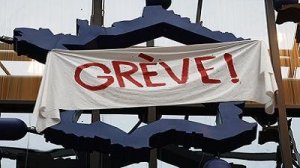 Pierre de Benoist told me this week after I emailed him for a strike report, the French are talking a lot about the vocal minority that is blocking their country from moving forward and the large silent majority that is working, adding "have we ever seen a terroir or a vine or a wine go on strike?"
As I understand the government may pass the reforms anyway this weekend but the strikers plan to continue their interruptions into next week, with a big operation planned for Thursday.  The strike is affecting refineries, trains, planes, highways, all aspects of transportation.  One preferred method is operation "escargot," during which tractor trailer trucks line up beside one another and drive at a snail's pace along the highway, blocking miles of traffic.  There is a big French vacation week that started Friday 10/22 in the early afternoon (if they aren't striking they're on vacation!) so all the traffic on the road will contribute to jams and gas shortages.  Depending on the region, 25% of the gas stations are low or out of gas.  The police supposedly freed up a refinery around Paris yesterday.  The slight possibility of violence or accidental injury is the wildcard.  Trains are running unevenly.  Flights are still getting into Charles de Gaulle airport.  My flight is scheduled to leave on time this afternoon.  My challenge upon arrival in Paris will be to taxi to Gare de Lyon then get a TGV to Beaune.  I have a car in my garage in Meursault with a full tank of gas.  The report from Clape in Cornas and Gallety further south near Saint Montan is that their local gas stations currently have supplies.  If all else fails I'll have to try to tap into the vignerons' tractor back-up stashes as possible.  I guess I won't be able to wait until the reserve light comes on as I usually do.  I booked my return flight out of Germany but that depends on a rental car in Beaune and plenty of gas…..
Despite discouragement, the frustrating challenges that surely lie ahead, and the added pain of missing the Alabama Tennessee football game that kicks off as my flight takes off, I'm braving the unknown.  There will be no stopping this wine importer from bringing you the best of the French cellars this fall.  Our growers aren't on strike so I'll see them somehow, some way.  I'll report back along the way, hopefully with some photo and video support, with an on the ground assessment of the situation, including plenty of opinions from our growers, and of course I'll update you on the quality of the wines.  Wish me luck.  Signing off for now. – Dixon Brooke