Into the Eye of the Strike: Arrivée
Sunday, October 24
My flight arrived on time in Paris.  Sailed through passport control and customs without much fanfare.  Jumped in a cab and told my cabbie I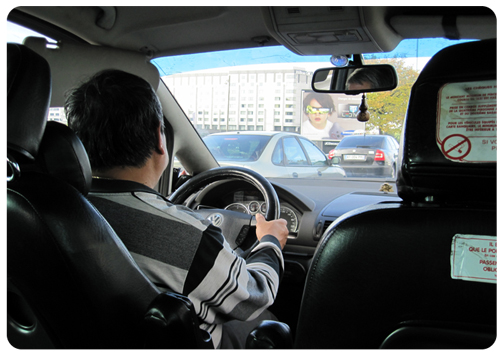 was glad he wasn't on strike.  "Il faut travailler" was his response, you have to work.  Right answer.  He is from Cambodia and has lived here for 20 years and is happy to have a job.  Traffic was nothing out of the ordinary.
The good news continued at the train station in Paris, Gare de Lyon.  All the trains were running on time.  Less excitement for you perhaps but a great pleasure to me! 
The first train to Dijon was fully booked but there was a second one within an hour with a few seats left.  Train arrived in Dijon only ten minutes late.  Just when I was beginning to think this was all going to be pretty easy after all, I hit a snag in Dijon.  My train to Beaune was canceled due to the strike.  An SNCF worker told me this in a very matter of fact way with total and complete lack of sympathy.  C'est normal.  I was only 30 minutes from my destination by train, but pretty far by foot.  Went to the rental car area and all were closed except Avis who opened at 4.  I waited ten minutes until the woman inside opened the door to tell me that there were no cars available.  So I started waiting for a taxi.  None were to be had.  Several arrived and pulled in to park but refused passengers, as if they couldn't resist driving around and wasting gas just to be able to refuse people a ride!  Just as I was negotiating a ride with Christophe Bouvier in Marsannay, a kindly French cabbie with outspoken views on the strike and many other topics offered me a ride to Meursault.
This cabbie needed only to hear the word grève from me to set him off.  In short, the strike is complex, it's mostly China's fault, and Americans are great workers and their Harley Davidsons are to the USA what great wine is to La France.  Thankfully my cabbie appreciated wine, far from something you take for granted even in France these days, and as we drove past Volnay he told me that was his favorite Burgundy in the Côtes de Beaune, and that Morey Saint Denis took that honor in the Côtes de Nuits.  No argument there, although to make a Burgundy lover choose his favorite red appellation in the Côtes de Nuits is not really fair.  He had one final story for me, since as he aptly noted, it's hard to discuss wine without discussing food.  As he dropped me off in the center of town in Meursault, he told me the story of his famous croque monsieur that he once made for his friend's brother. This gentleman now lives in Atlanta, is married to an American, and they once flew him over just to make his croque monsieur. No imitation would suffice.  They don't make 'em like they used to….
Back at home, by some miracle, I still had some late fall tomatoes on the vine, so I whipped up a tarte aux tomates for dinner, and a 2004 Auxey-Duresses Rouge from the cellar hit the spot.