Into the Eye of the Strike: Northern Rhône Day Two
Wednesday, 10/27
It is generally accepted among those in the know that the greatest Syrahs from the northern Rhône are coming from Cornas these days.  This isn't because Cornas has the best terroir, but because it has the best group of established vignerons making real wines, a group that has not surrendered to modern fashion.  There is also, refreshingly, a younger generation of growers also making great, typique, Syrah in Cornas.  Nobody does it better than Thierry Allemand, as a long barrel tasting of his 08s and 09s handily reminded.  Thierry detests new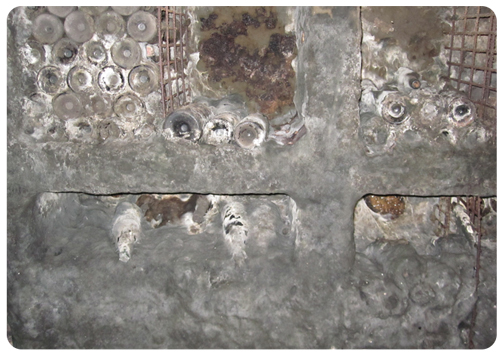 wood, thank goodness, and successfully harnesses the wild side of Cornas with just enough refinement.  His wines have an incredible purity and transparence, not to mention a downright bloodiness.  You taste what the vines' roots are drinking.
Around the corner from Thierry, three generations of Clapes are also keeping things traditional and classic, as a recent article in La Revue du Vin de France highlighted. Thierry would love to get his hands on some more older foudres like the Clapes have in their cellar.  The northern part of the Rhône Valley has traditionally aged their wines in larger barrels—demi-muids or small foudres.  There is a logic to this.  Feuillette in Chablis, pièce in Burgundy, demi-muid in the northern Rhône, foudre in the southern Rhône, etc.  The barrel gets larger as you head south.  It all has to do with the ratio of wood to wine to oxygen based on the climate and the grape variety.  Smaller barrels just don't work as well in the south, especially if the cellar is above ground, they tend to dry out and dominate the wine.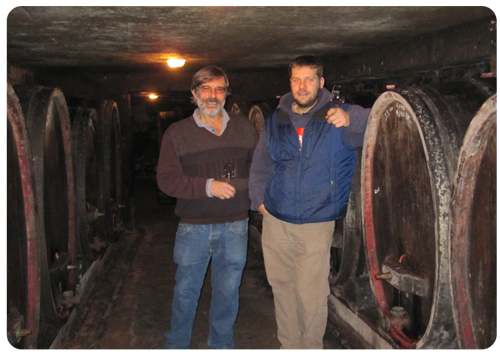 Pierre-Marie and Olivier Clape
I finished the day with Alain and David-Alexandre Gallety in the Vivarais, a relatively unknown but beautiful area of France.  Named after the ancient town of Viviers, the rolling hills of the Vivarais flank the western side of the Rhône River between the North and the South as we know it, in other words between Cornas and Châteauneuf-du-Pape.  The most amazing part of this visit was seeing the Gallety's new vineyard project.  Near the top of the hill, above their winery, they have cleared a steep, garrigue-laden slope that exposed pure white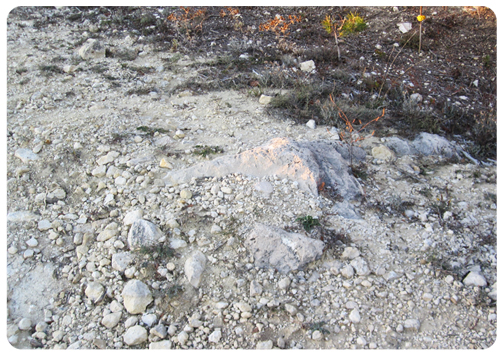 limestone below.  Not just decomposed limestone, but a pure block.  This stunning parcel, overlooking the Rhône River due south, will be planted with vines grafted from the best Syrah on their property, and it will surely produce their greatest wine.  They plan to work the parcel with a draft horse.  This is typical of the current tendency to step backwards in time a bit, and re-harness, pun intended, the proven techniques of
the past.  Sometimes, as I would discuss later with one of the great traditionalists of Hermitage, one has to go too far in the wrong direction to realize what a mistake they've made and reverse course.  The financial crisis came up as a recent example, as did the fact that nature has been sending us signs for a while that something just isn't right with our current trajectory.  We can only hope that the collective French wine world will reverse course before it's too late and their wines are no longer recognizable.  The Gallety 2010s in tank were absolutely stunning.  This is a property on the move, à suivre.