Into the Eye of the Strike: Southern Rhône and Back Home
I continued south Thursday morning, stopping first at Domaine Gramenon.  Gramenon is in a beautiful area in the northern stretches of the Côtes-du-Rhône appellation, where it is a bit wilder with more forest and rolling hills.  I met Michèle and Maxime in the winery and found them busy racking their 2010 La Mémé cuvée (from ancient, gnarled Grenache vines) out of a wooden cuve and into a barrel, freshly fermented.  We tasted three 2009 cuvées that were in tank, awaiting bottling and shipment to Berkeley within a few days.  It was an outstanding trio, Sagesse, Papesse and A. Pascal S.  Hey, that rhymes.  The wines were very ripe with chewy tannins, all very pure expressions of Grenache.  The domaine prefers to bottle these wines after their first summer, giving them more time to settle and come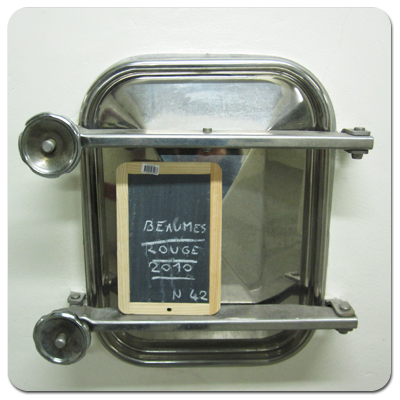 together before their unfiltered bottling.  One thing struck me—these are best served slightly cool.  Papesse really knocked us out with its intense perfume of roses.  Ask your salesman about these beauties because they will probably sell out before they touch down in California!
Next I headed down to the stunning property of Domaine de Durban in the hills above the town of Beaumes-de-Venise.  Henri Leydier was climbing out of a cuve of Muscat when I got there.  He had a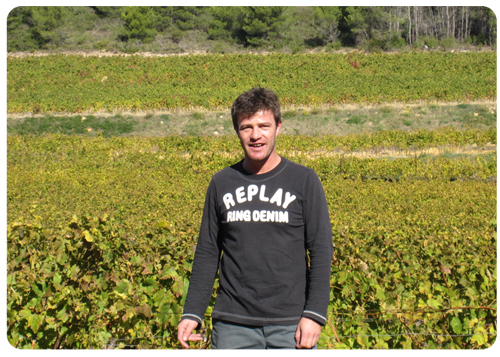 high-tech tasting system in place whereby he lowered a mason jar on a string into the tanks to pull out a taste of the new vintage.  This is the classiest and prettiest of the Muscats in this appellation.  Leydier's reds are a welcome combination of delicious, right-off-the-vine fruit, quaffability and total unpretension.  Be sure to taste his Beaumes-de-Venise Rouge, an old store favorite.
I rolled into Gigondas around 6:30 pm later in the evening to see Louis Barruol of Château St. Cosme.  In addition to making great Côtes-du-Rhône and Gigondas, Louis has been combing the hills of Côte-Rôtie for years, building relationships with growers.  Many of them don't even bottle their wine, but would typically sell to one of the large négotiants in town.  Louis has begun buying up their wine, aging it, and bottling it himself, saving many old-vine terroirs from anonymity in a high volume blend.  In essence, Louis is helping to save one of the greatest terroirs of France, and we've built an exciting collaboration over the past few years.  Our offerings from him will be expanded a great deal next year, so look out for some very exciting 2009 Northern Rhône bottlings with the "Blended by Kermit Lynch" label.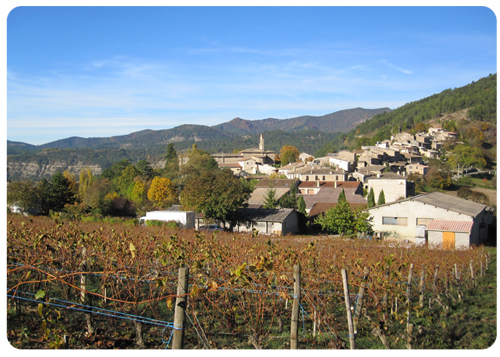 Friday morning I took a long detour through the Drôme Valley to see Thomas Achard near the town of Die.  This valley was once well-traveled by Romans heading towards the crossing of the Alps into Italy.  The Romans knew of the naturally sparkling wines of Die as early as 70 AD.  Made from Clairette and Muscat grapes, these sparklers were traditionally sweet but range from dry to sweet today.  The Achards are totally committed to biodynamic agriculture, and follow an ancient process that is incredibly labor intensive, producing their sparkling wines bottle by bottle.  I encourage you to try one of their wines this holiday season, keeping in mind that you are supporting a small family business practicing sustainable agriculture.  This will help keep France beautiful as we all want it to be.
On my way back to Burgundy, I stopped in Morgon to see Mathieu Lapierre.  After tasting through the barrels of the freshly harvested and extremely promising 2010 Morgon, we toasted Marcel's memory with a 2005 Cuvée Marcel Lapierre, one of the greatest Morgons I've ever had the pleasure to drink.
The pre-meditated strike turned out to be a yawner on Thursday.  I had no trouble finding gas anywhere and didn't run into any escargots.  All the winemakers were of course working…..in short, all is well in France, sort of.  I'm glad I didn't cancel my trip, it's been great to be back.  I'm leaving with a lot of hope, for the future of both wine and food in this country.  I just can't imagine the young generation won't do whatever is necessary to protect their amazing cultural heritage.  We'll certainly do our part by buying only the most authentic products.
I'm homeward bound.  Thanks for joining me.