Beaujolais Nouveau
The beauty of Beaujolais Nouveau is that on the third Thursday of November, around the world, this wine inspires revelry. In Japan, pools and hot tubs are filled with the stuff. In Las Vegas, the fountains run red once a year with Nouveau. In France, bistros open their doors at 8 a.m. and old and young alike gather to celebrate this year's harvest. When I lived there, it seemed that bottles were just handed to everyone on the street.
Here in Berkeley, we hold off on our celebration until the weekend when we set up tents in our parking lot and invite all our customers to come down and have a glass   (or bottle) of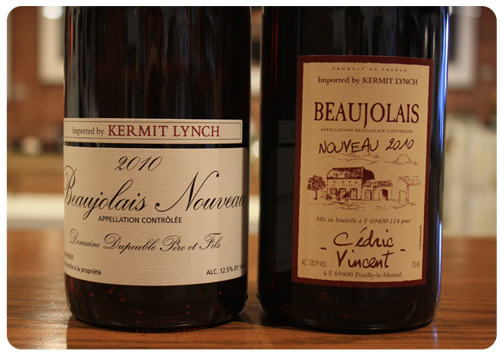 our natural, no-sulfur, un-filtered, un-fined Beaujolais Nouveau. For the third year running, we have two great Nouveaux—the classic from Domaine Dupeuble and a dark, brooding rendition from Cédric Vincent—both of which I recommend seeking out.
If you're going to make it down to our Nouveau celebration on Saturday, be prepared to enjoy a delectable lunch from chef Christopher Lee. He'll be serving grilled Boudin Blanc, homemade sauerkraut with apples, parslied creamer potatoes, and an Acme baguette. Our Nouveaux and a few other wines from the region will be poured by the glass to accompany Chris' food.
Note the date:
Saturday, November 20 11 a.m. to 4 p.m.
Event Presented by Café Fanny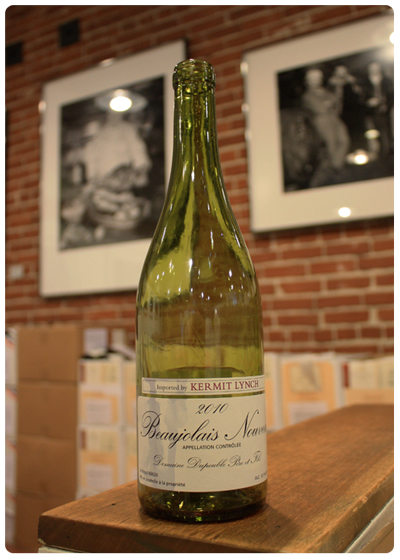 Is that an empty bottle of Nouveau already?