The Making of a Wino
Delia Dent has been working in our Beaune office for the last couple of years.  She graduated from Columbia in 2004 with a double major, French and Medieval Studies.  She also speaks Italian well, and that comes in handy over there.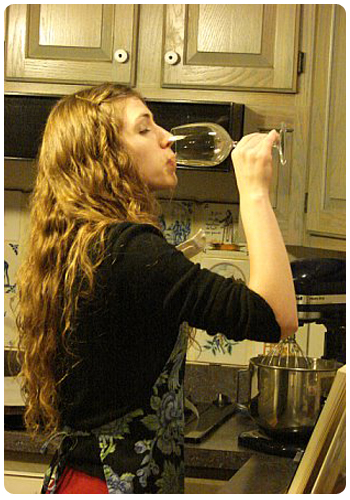 As a child I was already a dedicated gourmand, spending countless hours in the kitchen with my mother and gladly partaking of the fruits of our labor. And while my older sister made faces when she tried my parents' wine, I was a fan right from the start. By the time I was about ten years old I would have a glass of wine next to my milk at dinner on Saturdays. (I kept them entirely separate, bien sûr.)
Fast forward to senior year of college. With graduation approaching, I was in that embarrassingly lost group of students who had no clue what to do next. I was dismayed by the prospect of ending up in finance or law like the overwhelming majority of my classmates. One day my cousin called to catch up and asked the dreaded question.
–    So, do you know yet what you want to do after graduation?
–    No, I have no idea. I've tossed around a few ideas, but none of them is really right for me…. Hey, maybe I'll end up a professional wino like we said I would when I was ten years old!
–    Well, I have a friend who works in the wine business. I'm sure he'd be happy to talk to you.
With that, a light went on and something clicked inside me. That exists, I realized. Wine is something you can actually do, as a job! From that point on there was no doubt: I wanted to work in wine.
That summer I joined the marketing department of Italian Wine Merchants in New York. I learned a lot over my two and a half years there and handled many different types of projects, but my dream had always been to live in Europe and the company couldn't take me there. So when my boss called me into his office to announce that I was getting a major promotion, I thanked him but said it was time for me to leave and head overseas. He was enthusiastically supportive and over the following weeks called around to see if any of his contacts had job openings in France. It just so happened that Kermit Lynch was looking for someone for his office in Beaune, and my languages and skills fit the bill. I was hired and soon headed over to start my new life amid the vineyards.