Introducing Our Producers
I won't try to sugar-coat it: when most people think of informative websites, they're not exactly thinking of Kermit Lynch Wine Merchant. It's true. We do wine the way others do food….slowly. And we like it that way. It has always been about the hand-sell, not about marketing gimmicks. The times they are a-changin,' ladies and gentlemen—after thirty-nine years in business, we are finally launching a full-scale website with more information than any mere mortal could digest in one session of surfing. Our goal is to turn the spotlight on our producers, all 132 of them, making information more accessible. Thank you for your loyalties despite our Stone Age pace…Kermit takes the blame for that—he still prefers an eraser to the delete key.
If you think getting stories and technical information from us is difficult, you can only imagine our struggles trying to get them from 132 farmers who can barely tear themselves away from their vineyards and cellars to chat or respond to our email queries. Often, their shyness, modesty, or nonchalance prevented them from revealing some of the juicier stories. With others, the stories seemed to change a bit every time we poked a little deeper. These are folks whose methods are so ingrained they almost can't even describe them (like a cook who knows a recipe by heart and feel but can't really write down all the proportions and tricks on paper). There's nothing formulaic about them.
Over the last nine months, I have had the pleasure of researching and writing about over one hundred of our French producers. It was a joy to discover so many awe-inspiring personalities that represent some of the best farming and winemaking practices anywhere. Whether they are motivated by familial duty or raw, renegade pioneering, every one seems to have a passion for perfection. Most impressive of all is their shared dedication to quality, their respect for the wisdom and traditions of their predecessors, and their herculean efforts to protect, renew, and sometimes even to resuscitate these old practices in a wine market of globalized tastes. I grew to consider them courageous, even heroic.
The portfolio established by Kermit in the late seventies and early eighties has left an enduring legacy—not only in setting the standards for other importers of artisanal wines, but also for the industry at large. Winegrowers who were once under-the-radar have since come to be regarded as leaders in their respective appellations. Many of those early relationships have endured to this day, continuing on into second or even third generations of some families. Over the years, new properties have been added to the KLWM family and new relationships forged. Young pioneers emerge every day, willing to risk everything for authenticity. That Kermit Lynch Wine Merchant stands strong today attests to the everlasting relevance of artisan-farmers in the marketplace and the need to promote their efforts with the same unrelenting zeal that Kermit has shared with customers for almost four decades.
One need look no further than the quintessential cornerstone of KLWM, Domaine Tempier of Bandol, to see the defense of terroir still at play. Lucien Peyraud, the godfather of Bandol's A.O.C., took vital steps in the restoration of Mourvèdre, which still brings prestige to these wines today. Members of the renegade "Gang of Four" in Morgon (the Lapierres, Jean Foillard, Jean-Paul Thévenet, and Guy Breton) not only serve as leaders in the natural wine movement but as rebels in the struggle against mass-marketed, corporate wines. Didier Barral, whose domaine could be affectionately referred to as "Animal Farm," grows his grapes biodynamically, promoting the concept of sustainability at its best with horses, pigs, and cows grazing peacefully among his vines…In so doing, they have all served as modest yet influential role models to countless other producers in France.
Brave women like Nicole Chanrion of the Côte de Brouilly, Hildegard Horat-Diop of the Languedoc, three generations of Lassalle women in Champagne, Marianne Hillau in Irouléguy, and Michèle Aubéry-Laurent and Catherine Le Goeuil of the Southern Rhône have pushed the envelope and broken gender stereotypes by making incredible, often powerful wines under the most challenging of circumstances. Equally impressive are those with little to no family heritage in winegrowing, like Baptiste Lalfert in the Languedoc and Pascal Janvier in Jasnières, who roll the dice every day without knowing hands to guide them.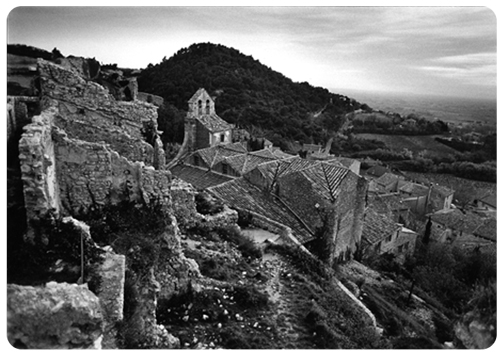 Rooftops of Gigondas
And then, of course, there are the Titans—established leaders like Domaine du Vieux Télégraphe in Châteauneuf-du-Pape, Domaine Les Pallières in Gigondas, Domaine Raveneau in Chablis, Charles Joguet in Chinon, Auguste Clape in Cornas, Méo-Camuzet, Domaine Roulot, and Coche-Dury in Burgundy, André Ostertag in Alsace, Domaine Hippolyte-Reverdy in Sancerre, and Antoine Arena in Corsica among others—who stand as the benchmarks against which others in their regions are judged.
I am only scratching the surface of the many inspiring individuals we have the privilege of representing. As we had a restricted number of words to tell the many stories that emerged, we had to limit the profiles to brief portraits. Hopefully there is enough information to give you a taste of the people, places, and wines that have inspired so many of us over the years. With all of this in mind, I would like to launch a multi-part series on our blog to introduce some of these incredible properties to you…and perhaps to reveal a few of the stories I did not have the space to tell. Please stay tuned for future postings, and in the meantime, we hope you enjoy all of the new information that's now only a click away.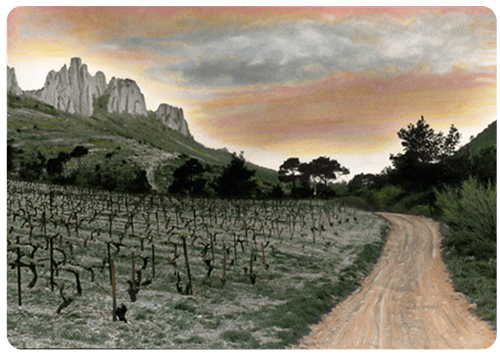 Les Dentelles de Montmirail