2009 Vintage Discussion: A Letter from Daniel Brunier to Kermit Lynch
Wikileaks just uncovered a classified cable sent between Châteauneuf producer Daniel Brunier (of Domaine du Vieux Télégraphe) and Kermit Lynch. Below is the letter Kermit received in which Daniel discusses his thoughts on the 2009 vintage. Please feel free to contribute to this discussion in the comments at the bottom this page.
Kermit,
I understand how one might be surprised when we say that the 2009s are on the same level as the 2007s, knowing how effusive the praise was for 2007.
In fact, in my mind, they have rather different personalities, but it could be said that they are quite comparable if they need to be given a score without any further explanation. What I mean to say is that I understand how they could be given identical scores while also being different. "The same intelligence, but for the words to express that, they are not the same."
It seems like the raw material is tighter, darker, fresher, and denser in the 2009s, while the 2007s are more generous, more velvety, richer and more sun-kissed. There is a light bitterness (like cocoa powder or pastry chocolate) currently in the 2009 that wasn't there in the young 2007s—they were more easily accessible earlier than the 2009s are, without at all implying that they are not capable of aging. We now know that accessibility has nothing to do with aging.
I get the same impression from the Racines and the Terrasse: while they have their own individual characters, they also have the imprint of the vintage stamped on their foreheads.
In the mix are the 2008s, which play their game with elegance, precision, finesse and freshness. You know that for me "finesse and elegance" have positive connotations. Certainly we do not find the depth or the complexity of the two other vintages, but the 2008s have a beautiful mouth-feel, a beautiful balance. It's a vintage known for its texture, its fullness, its plump tannins, and its gently peppered notes. It's the same sensation as an aged piece of beef compared to one that's too fresh.
Kind Regards,
Daniel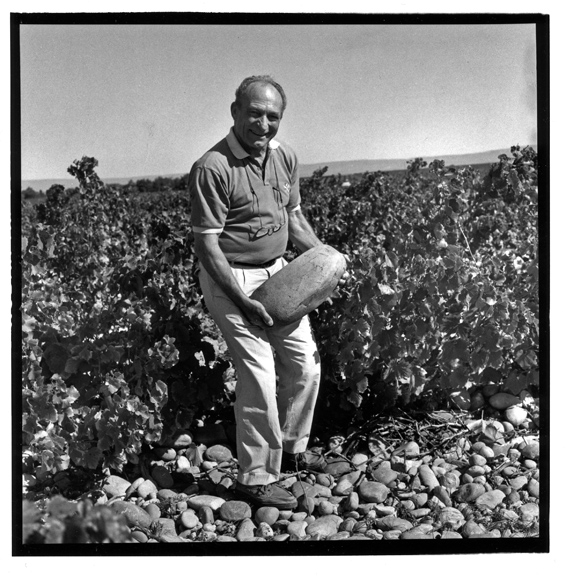 Henri Brunier in the La Crau vineyard, Châteauneuf-du-Pape