Chez Les Laboucarié
While in the Languedoc this summer, one of my favorite visits was to Domaine de Fontsainte in the appellation of Corbières. I was particularly excited about going because I bring the wines home at least once a week to enjoy with dinner. Bruno Laboucarié runs his family's domaine today, but since he was out on vacation, he called on his mother, Christiane, and father, Yves to welcome me. And a welcome it truly was. I arrived at their door, in the center of town, around 10:30. I knocked. A lovely brunette of a certain age answered the door, "You must be Lori," she smiled knowingly.
"I am, Madame," I answered. She threw her arms around me like I was a grandchild returning home.
"Welcome, then!" she giggled with delight. "Yves is in his office waiting for you."  I followed her into their home, and into Yves's office. The minute I walked in, I knew it was going to be a great visit. He sat there eagerly with a broad smile on his face from ear to ear, and not a wrinkle on him to show his years or wisdom.
"Welcome, Mademoiselle," he said, "come in, come in." Sitting behind his well-worn desk in his Sunday's best tweed suit, the show began. A gifted storyteller if ever there was one, Yves leaned forward, with a flirty twinkle in his eye, and grinned. "Do you know how La Demoiselle vineyard earned its own bottling?" he asked, drawing me into the performance.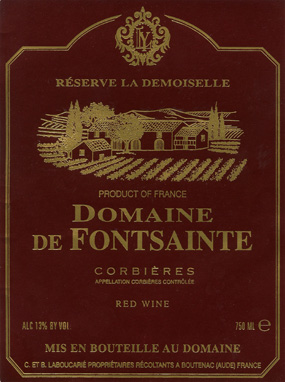 "No, actually I don't. Do tell."
He paused dramatically for half a second and nearly shouted, "It was all Kermit!" while simultaneously pounding his fist on the desk for emphasis. I couldn't help but get pulled in. His enthusiasm was contagious. He began his tale, and it went something like this:
"Kermit had contacted Christiane and me sometime in the early 1980s to set up a tasting appointment. It was the fall or winter, and we had no idea what to expect. He seemed like a kind gentleman, correct and not too fancy, but at the time, he didn't speak the fluent French that he does today. We spoke slowly, tasting him through each of the cuves, and we could see that he liked them. However, we weren't bottling the Réserve La Demoiselle separately at the time, just blending it all into one Corbières Rouge and the Gris de Gris. He said that he enjoyed our wines and was certain he wanted to buy them. He promised to return the next day around eleven o'clock in the morning to finalize the deal.
"We were very pleased at the thought of having our wines exported to the United States, but we waited to see if it was true—if he would actually return. And then eleven o'clock rolled around and no Kermit. Eleven thirty. No Kermit. There was no way of reaching him; no way of knowing if he would really come! It was a rainy morning, and we wondered if something terrible had happened to him. Two hours later, we heard a knock on the door. When we answered it, lo and behold, there he was in a soggy hat, trench coat, and mud caked to his boots and half-way up his calves! He was a sight indeed!
'I'm sorry for being late,' Kermit explained to us, 'but I had to go see this old Roman vineyard La Demoiselle you were telling me about. It took me some time to find it.'"
Yves continued on with wide eyes and expressive hand gestures, "Well, Mademoiselle, it's not every day that a wine buyer goes to such lengths to find an old vineyard! You can imagine how impressed we were! So when he finally dried off a bit, he explained to us how he was interested in buying all of our wines, plus getting a separate bottling of La Demoiselle for the United States." Yves leaned forward again, twinkling. "Isn't that wonderful?"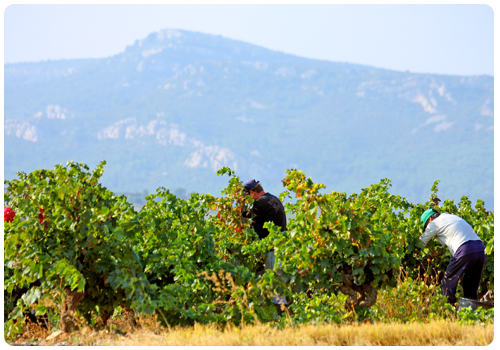 Harvest at Domaine de Fontsainte
It was hard to avoid being enchanted by Yves' easy charm, and he knew he had a willing audience in me. As he rolled on into an old Air Force story about how he escaped from a burning plane twice after being shot down in Algeria in the 1950s, Christiane quickly interrupted him and scooted us all into the tasting room. Maybe she had heard that story already once or twice before…
And the stories continued on; into the tasting room, into the vineyards, on a fast-paced car ride into town, and well on into a delicious lunch. This old Roman healing springs, which we all know as La Demoiselle vineyard, has certainly earned its place in KLWM lore, but it is the Laboucariés who have earned a place in my heart.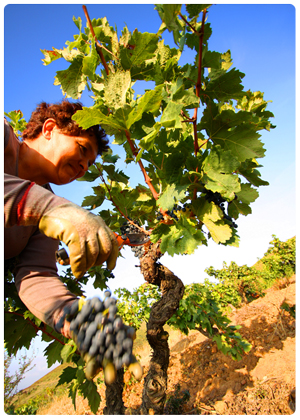 Grenache vine at Domaine de Fontsainte