Food Truck Frenzy: A Moveable Feast
A few weeks ago, my pleasure-seeking other half, John, and I went to Jack London Square in Oakland, where the second annual Eat Real Festival was taking place. As a newcomer to the Bay Area, I was excited to get a sampling of the kinds of foods and restaurants to be found here. This weekend-long event featured dozens and dozens of food trucks along Oakland's waterfront, offering specialty items like cupcakes, mom and pop-style pies with a twist, seasoned nuts, vegan burgers, pickled vegetables, high-brow mac 'n cheese, dim sum, barbecue of all kinds, Indian-Mexican fusion, gourmet empanadas, kimchi, assorted grilled cheese sandwiches, and home-made corn dogs, just to name a few. Only in the Bay Area can one find such straightforward, home-style recipes done with such culinary mastery, made with such a wide variety of local and organic produce. It was awesome. The empanadas were stuffed with locally-sourced seasonal mushrooms, shallots, and parmesan cheese—only one of many surprising examples of the creativity I witnessed. Oh, yeah, and everything on every menu was $5 or less. If this is street food as the promotional materials claimed it was, then I clearly need to walk around a little more often.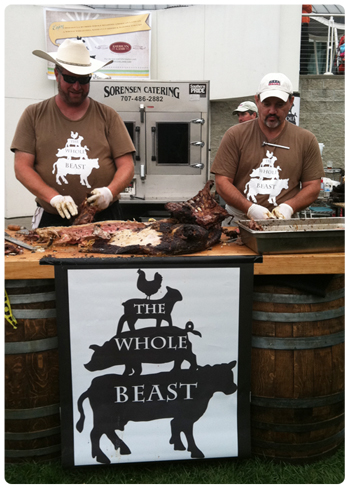 What I love about the food truck craze as a growing national phenomenon is that it attracts customers of all walks of life, exposing everyone to all of the endearing qualities of the locavore and slow food movements—all with the pragmatism of a fast-food pace. This food truck scene was a culinary utopia, where everyone benefits, rich and poor, young and old alike. It was a pleasure to see traditional American home cooking celebrated (so often panned by stuffy upper-crustists) alongside so many different international cuisines. (My stomach can attest that the American Melting Pot has a whole new meaning for me now.) While going to a restaurant can be a highly anticipated event, if not a privilege, my first notion is to chuck some of the pomp and circumstance out the window in favor of fun and approachability.  People waited patiently in line in front of a given truck, asking each other what they had eaten. The dialogue between these non-experts was more exciting, passionate, and animated than reading the food column of any respected newspaper. Was it fancy? No, and it was delicious—free of the guilt or shame after eating stereotypical fast food, enjoyed in reasonable portions, and much more socially conscious.
Although my heart longed for a cool bottle of Marcel Lapierre's mouth-watering and equally unpretentious "Raisins Gaulois," (alas, there was none being sold), I opted for a glass of locally-made beer from a jam jar. It did me right, but I was wishing KLWM was part of the event. There's just something about European wines that makes them so incredibly food-friendly. Where do I start?—they have great finesse, freshness, low alcohol levels, and balanced acidity. But I digress…
The key to the festival's success, in my humble estimation, was that it was as fussy an interpretation of simple food you could get while still keeping it wonderfully down-to-earth. The terrific approachability of the fare and the venue made it festive and light and easier on the wallet than eating at a restaurant. I suppose it doesn't get more accessible than a feast on wheels, does it?
Reasonable portions aside, my need to sample the variety made any moderation out of the question. Saturday evening, I knew there was only one more truck's fare in me before I would most certainly collapse into a food coma. I turned around towards the dessert trucks: pie or cupcakes?  I wondered, oblivious to the fact that whoopie pies were also an option. As I turned to coax John to follow, I realized that he was gone. I stood there alone for a moment in a sea of happy diners. A band was playing, kids were running around, and the crowd was well-fed and clearly appreciative of good food. After a few minutes, I saw him walking towards me smiling, with a roasted suckling pig taco in hand. "I'm almost done! I had to try one more," he said giggling, almost high in anticipation of the next bite.