Hot For Vin Chaud
While I've never been one to go cuckoo for spiked coffee or hot toddies, there is something so satisfying about vin chaud during the winter months. Vin chaud, or mulled wine, gets very little notice in the United States, and what a shame! With all of the mixers used to turn wine into a cocktail (orange juice, peach nectar, and crème de cassis to name a few), one would think more attention would be paid to this age-old beverage. Vin chaud has many different incarnations depending on the country you are in. In Germany it is known as Glühwein, in Sweden Glögg. The recipes may vary, but it is always served warm, and the recipes generally include spices, fruit slices or zest, honey or sugar, and occasionally a little brandy, too.
During my years in Paris, I grew quite fond of vin chaud. Winters there may not be very snowy, but Paris is humid, and once the humidity sinks into your bones at low temperatures, the chill is like no other. That's when mulled wine comes in handy. At the end of the day, as the light was waning, I'd often stop by my favorite café on the way home to enjoy a hot glass of wine to warm up. The presentation felt fancier to me than a mere wine glass; it was served in a short glass with a metal handle encapsulating it from the bottom, garnished with a slice of orange, a cinnamon stick, and two cubes of sugar. The tasting experience is different, too, as the steamy aromas lift out of the glass in abundance. Divine! There is a kind of curative satisfaction in sipping mulled wine.  It definitely tastes good, but more importantly, it feels good. For those of you who poo-poo making a warm cocktail out of wine: don't knock it 'til you've tried it. This drink has been consumed steadily since the Middle Ages.
These are the most common ingredients that I found in most versions of the recipe: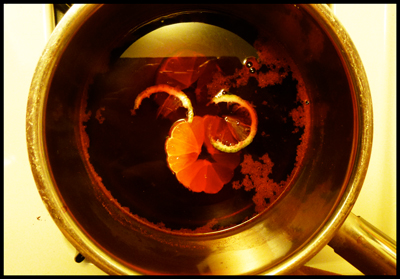 – Wine
– Nutmeg
– Cinnamon
– Cloves
– Ginger
– Nutmeg
– Oranges
There are countless variations. Honey can be replaced with sugar; mace or allspice can be added to or used in place of cinnamon and nutmeg; cognac can be added for extra kick; lemons can be used instead of oranges; and water or cider can be added to reduce the strength of the wine. There are tons of recipes for mulled wine online, but I was pleased to see one site entirely dedicated to the subject: www.mulledwinerecipe.com. Large batches can be made in a slow-cooker over one to two hours. There are some exciting recipes for white vin chaud as well!
The holidays are upon us, but crazy hours and long days in the store have been threatening my ability to keep the fa-la-la going. So last night, I decided to invite the seasonal cheer back in by making myself a little vin chaud. On my way out of the store, I grabbed a bottle of the Dupeuble Beaujolais to serve as the base for my recipe. Many cuvées would do the trick, namely the Domaine de Fontsainte Corbières, Château Saint Martin de la Garrigue Coteaux du Languedoc Rouge "Tradition, " and Domaine de la Chanteleuserie Bourgueil "Les Alouettes." I settled on the Beaujolais since it tends to be more fruit-forward and lighter on the palate. Wine gains intensity and coarseness when heated, so the goal is really to avoid tannic and/or oak-aged wines altogether.
A large batch was not needed this time, so I filled a mug with wine and then poured it into a pot to heat. As many online recipes suggested, I allowed the wine to warm up slowly so that I would not boil off any of the alcohol—there's no need to reduce the pleasure component, after all! I added a pinch of cinnamon, ground clove, nutmeg, ground ginger (as I was concerned that fresh ginger would really dominate the taste); a teaspoon of honey, two tablespoons freshly squeezed orange juice, and then a slice of orange. The smells coming out of the pot were delicious, and it took me just about as much time as it takes to make a cup of tea. Ridiculously easy.
The danger with mulled wine, much like that of sangria, is that it is so tasty and easy-to-drink that over-imbibing can be treacherous. One mug did me right, relaxed me instantly, and warmed me up. Had I enjoyed a second one, I might have been inspired to leap up and go Christmas caroling…but I settled for loafing out on the couch to watch A Christmas Carol instead. When I woke up this morning feeling refreshed, I realized that it is a celebrated beverage for a reason.  Whether you make a large batch for a party to serve with gingerbread or make a cup to dissolve your inner humbug, it's an age-old drink whose magical properties have kept it relevant for centuries.