A Bruce Trip: A Remembrance
After a fantastic tasting at Domaine Chignard in Fleurie with some of the best charcuterie I've ever had in France, we stepped outside and were greeted with a breath-taking view of Mount Blanc on a clear morning.  Not a bad way to start off the day.  Hopping into our vans we sped off and headed toward our next destination: Villié-Morgon.
Walking across the courtyard toward Domaine Marcel Lapierre, I overheard Bruce Neyers say to Chris Santini, manager of the KLWM Beaune office, "I think this is going to be hard for me, so I might need your help."  "Of course, of course," was Chris' response.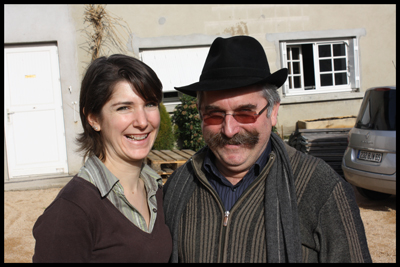 Ghislaine and Damien Dupeuble
The group stepped into a large tasting room with long tables pushed together from end to end.  As we entered, we were greeted by a "super group" of some of our best producers from the Beaujolais and Mâconnais:  Marie and Mathieu Lapierre, Ghislaine and Damien Dupueble, Cédric Vincent, Guy Breton, Jean Foillard, Charly and Jean-Paul Thévenet, and Jean-Jacques and Nicolas Denogent from nearby Pouilly-Fuissé.  This was going to be an epic tasting.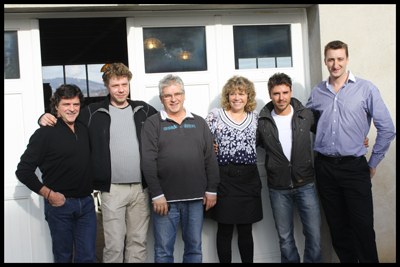 Guy Breton, Mathieu Lapierre, Jean-Paul Thévenet, Marie Lapierre, Charly Thévenet, Cédric Vincent
As we sat down I glanced at Bruce and sensed something was wrong.  Was it someone on the trip who was being disagreeable? When you're traveling in a van for two weeks straight you figure out pretty quick whether you like someone or not. Was I not driving fast enough to keep up with the lead van? I mean, I almost rear-ended Chris Santini twice just on the short drive from Fleurie to Villié-Morgon! And then Bruce clanked the side of his tasting glass and it suddenly all made sense. With tears in his eyes and a breaking voice, Bruce reminded us all that the one person missing in the room was none other than Marcel Lapierre, the owner of the domaine who died the previous October after a long battle with melanoma.
"In my twenty years of doing these tasting trips, this is the first time I've visited a producer who is now no longer with us. Marcel Lapierre was a great winemaker, individual, and a friend who I'll miss very much. At this moment, I'd like to ask you all for a moment of silence in his memory."
The room fell silent as our heads bowed in appreciation of Marcel Lapierre and the legacy of natural winemaking he helped to reinvigorate in the Beaujolais. Other than being an extremely moving experience, it also revealed the intense bonds that Bruce has built with our producers over twenty years of visiting, tasting, and selling their wines.  Marcel's death was a severe blow to many people and it was a class act on Bruce's part to acknowledge it in a roomful of Marcel's family members and winemaking peers. I'll never forget it.