Les Pallières Vertical
Last night we tasted a vertical of Domaine Les Pallières Gigondas—2009 to 1998, 1995, 1978, 1970. To keep things simple and not over-think our impressions of the wines too much, the staff met this morning and conferred on the wines. Below you'll find our brief impressions of how these wines are tasting right now. If this piques your interest and you'd like to further discuss the Pallières in your cellar and when to drink, feel free to give us a call at 510.524.1524 and a you can chat with a salesperson.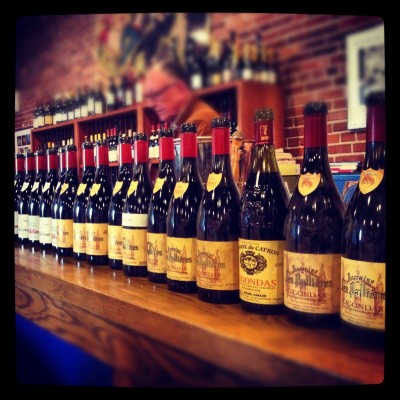 2009 Gigondas "Les Racines"
Gob and gobs of réglisse. Fresh cherries and blackberry fruit. Serious mid-palate structure.
2009 Gigondas "Terrasse du Diable"
Broad, deep fruit but nowhere near ready to drink.
2008 Gigondas "Les Racines"
An incredible contrast to 2009—downright drinkable and exploding with white pepper, pine tree, and black olive.
2008 Gigondas "Terrasse du Diable"
Raspberry, cherry, wide palate—higher altitude terroir shows with the strong structure.
2007 Gigondas "Les Racines"
Pretty closed but still showing depth. Deep color and sweet fruit—glycerin mouth-feel.
2007 Gigondas "Terrasse du Diable"
Elegant, great acidity, and mineral starting to show. The secondary flavors drop a hint of what is to come.
2006 Gigondas
Spice is the theme here. Stylish—clearly Pallières but definitively different from the split cuvée as this was the last year of the single bottling.
2005 Gigondas
Totally closed. Don't drink any time soon. But still a chalky, dry finish—very stony. A lot coming your way as it develops.
2004 Gigondas
Elegant and pretty, true Pallières class. A total sleeper vintage—you were wise if you cellared this bottling.
2003 Gigondas
Drinking very well—balanced which is remarkable for such a difficult vintage. Lots of pleasure now.
2002 Gigondas
A wine that was not sold in the rainy 2002 vintage but bottled to have available in the library for vintage tastings. Very impressive for this cold, rainy year.
2001 Gigondas
We had a bad bottle.
2000 Gigondas
Lovely progression and starting to show how great an aged Pallières is.
1999 Gigondas
Beautiful balance, a perfect middle-aged wine. It will age further but lots of pleasure now.
1998 Gigondas
Maturing well but more advanced than 1999 and 2000. Kermit and the Brunier's first vintage with the domaine. Incidentally this was a Spectator top 100 wine.
1995 Gigondas
Delightful now. Lots of terroir, meaty and showing that classic Pallières bouquet.
1978 Gigondas
A bottle that Kermit found stuck under a foudre. For a very low fill, it was absolutely stunning. A testament to the ability for this terroir to produce true vins de garde.
1970 Gigondas
Shocking how together this wine was. A beautiful experience.