Wine Weekend: Athens, Georgia
The Wine Weekend in Athens, Georgia, has become a pretty big deal.  In its third year of existence, the Wine Weekend, a public tasting of wines from all over the world poured by local distributors, increased its attendance from fifty people to a little over seven hundred.  Held at the Classic Center, a state-of-the-art convention center built to support the 1996 Summer Olympics in Atlanta, wine enthusiasts from all over Georgia and the Southeast arrived to taste through a selection of well over five hundred wines.  Through the help of a good friend who lives in Athens, I was invited to represent Kermit Lynch Wine Merchant during the main event, the Grand Tasting (we had our own table), but also to speak in two seminars to introduce wine lovers to KLWM and a sampling of our portfolio.  There were several other seminars focusing on various themes (food pairings, varietals, etc.) and different wine regions of the world.  The culmination of the weekend was a gourmet, multi-course dinner served with several pairings of wine.  All this in a day after stepping off a red-eye flight from San Francisco that morning!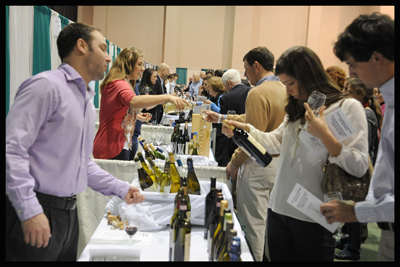 The Grand Tasting
 If you've never been to Athens, it's a fantastic place to visit.  A college town, the home of the University of Georgia, Athens is located about an hour northeast of Atlanta. (Lucky for Athens, it was just outside the path of destruction from Major General William T. Sherman's infamous "March to the Sea" in 1864 during the American Civil War).  There is a welcoming spirit to Athens that coincides with a lower cost of living and a town full of amenities.  Most significantly, Athens has a thriving, historic music scene that has cultivated the likes of R.E.M, the B-52's, Wide Spread Panic, and one of my favorites, Drive-By Truckers.  The food and wine scene has blossomed in the last decade with chefs like Hugh Acheson (who worked at Gary Danko in San Francisco before moving to Athens with his wife) and his very successful restaurants, Five and Ten and the National.  It can be hotter than hell there during summer, but the denizens of Athens seem proud to be living in a small, southern town that highly regards its individuality and a strong appreciation for the arts.  For example, when I was visiting, I found out that Walmart is attempting to open a store in downtown Athens which has caused a major uproar.
Thomas Morgan, our KLWM southeastern sales rep, joined me at the table to help pour during the Grand Tasting.  I wasn't sure how well known KLWM was in the south, but we got a pretty equal combination of folks who hadn't heard of us but walked away happy, and ones who knew us well and swore by our product.  We had a delectable smattering of wines, white, red, and rosé, to choose from, but the 2010 Moscato d'Asti from Tintero was the biggest hit for sure – a perfect wine for a hot summer's day under a Magnolia tree.  It's an incredible experience when you have, right in front of you, the opportunity to make a good impression on a consumer and hopefully bring them into your company's fold.  Thomas and I certainly made the best of it.
My seminars were very well attended.  Honestly, I really just winged it.  I wanted to keep it easy but informative without any hint of pretension.  I had chosen the wines in advance and made a selection that gave the best tour of France in the forty-five minutes I had to present them.  From Champagne to the Loire Valley, Chablis, the southern Rhône to Bandol, and then deep into the Languedoc, the guests tasted through the wines and asked many questions along the way.  Little did they know it, but I was secretly brain-washing them with the history and story of Kermit Lynch Wine Merchant.
After a long day of tasting and teaching, it was off to the National for an incredible meal.  We didn't get to see Hugh Acheson, the owner, to tell him what a great dinner we had, but just as we were about to leave, something happened that makes any visit to Athens complete.  Apparently, it's pretty commonplace considering he lives in Athens, but standing at the reservation desk as we walked out was Michael Stipe, lead singer of R.E.M.  Coincidentally, I have a client who used to co-own R.E.M's record label who I emailed from the airport earlier to jokingly say I would be in Athens and would tell Michael that he said "hi."  I didn't get the chance, but even with the Stipe-sighting, I thoroughly enjoyed my time in Athens just the same.