Summer Dinner Series at Range
KLWM Bay Area wholesale rep, Sam Imel, joins us today as our guest blogger.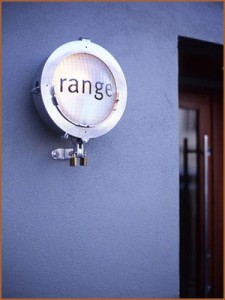 Range is a restaurant that I have a special connection to. I served tables there for nearly five years before coming to work for Kermit. I have dinner there at least once a month, and after yet another spectacular meal I got to talking to Chef Phil West and wine director Jonathan Sillcocks about the idea of a series of dinners inspired by Kermit's wines. One thing I know is that Chef West leaps at the opportunity to create special prix fixe menus inspired by wine regions, as he has had a lot of fun and success doing so in the past. We discussed what we considered to be the most exciting wine regions for a summer dinner series and came up with Beaujolais, Corsica, and Provence. To kick it all off this month the dinner will feature our top producers for Beaujolais—Foillard, Breton, Thévenet, and Lapierre.
We hope to see you at Range on Monday, June 25th—tables are still open but filling fast.
Spectrum of Beaujolais
$90 — 4 course prix fixe dinner. Wine pairing included.
A different Beaujolais will be poured with each course.
 Wines
2010 Morgon "Côte du Py" • Jean Foillard
2010 Morgon • Marcel Lapierre
2010 Morgon "Vieilles Vignes" • Guy Breton
2010 Régnié "Grain et Granit" • Charly Thévenet
Menu
Amuse: Corn croquette with squash purée and basil oil
(paired with Beaujolais apéritif cocktail)
Course 1: Mushroom stuffed pasta with sheep's milk ricotta,
fava beans and summer truffles
Course 2: Frisée salad with pork jowls, quail eggs, and a chicken liver toast
Course 3: Duck 3 ways with spaetzle, green chard and sauce albufera
Dessert: Strawberry tart with lemon verbena and chocolate
Menu is subject to change due to market availability.