July Newsletter: Two Samplers, Bandol in Danger, 2010 Tempier Pre-Arrival
The July newsletter is now available.
Click here to download the pdf.
BANDOL IN DANGER
by Kermit Lynch
Graeme Blackmore's piece on Tempier this month has an intriguing point of view. I have just returned to my place near Tempier, and—talk about another point of view—Tempier's vineyards and many others in the Bandol appellation are in danger.
France's fast train, the TGV, wants a new line, new tracks, to speed people from Marseille to Nice. Their brilliant idea is to build the tracks through the vineyards! Wouldn't that be great? To encourage even more tourism, they want to destroy a national treasure. I am told that the travel time between Marseille and Nice would be cut by only twenty minutes.
Any of you who have visited the Riviera lately know what more tourists and more housing can do—they can destroy the very beauty that attracted tourists in the first place.
Lucien Peyraud tried to fight the construction of an autoroute through the vines back in the late sixties, and lost the battle. Here we go again.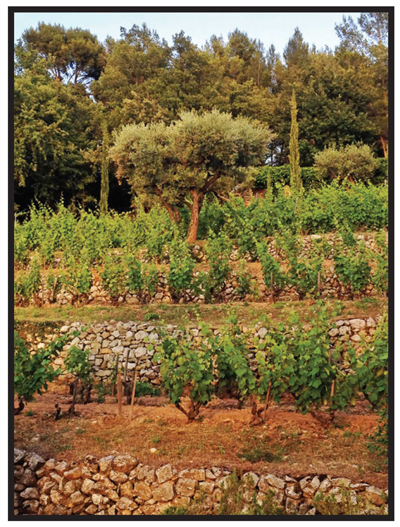 Bandol vineyard, la Migoua
SOUTHERN FRANCE
by Clark Z. Terry
2011 BANDOL ROSÉ
DOMAINE DE LA TOUR DU BON
Bandol rosé is near and dear to our hearts here in Berkeley. If you like being in the know or are always on the search for the next best thing, look no further than the Tour du Bon rosé—it tastes classy and hip to my buds.
The quality that sticks with me after tasting this new arrival is the seamless blend of ripe strawberry fruit and réglisse—this combination is nothing short of magical in the glass. I hope you'll give it a try and see for yourself.
$29.00 per bottle $313.20 per case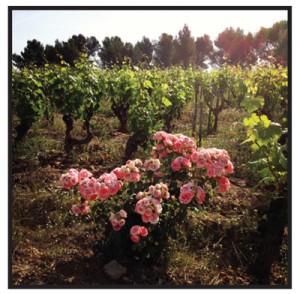 Roses at Tour du Bon
2011 CÔTES DU RHÔNE ROUGE
"POIGNÉE DE RAISINS" • DOMAINE GRAMENON
The Poignée is hands down my favorite of the Gramenon wines and the name evokes exactly what ends up in your glass. Poignée de Raisins translates to "fistful of grapes"—as if to say the juice is squeezed directly into the bottle. I dig the wine's simplicity and how it lends itself to such pleasurable immediate drinking. Aromas of cassis and black olive leap from the glass. Chill it in the fridge for thirty minutes, or perhaps use a mountain stream, as this wine is best drunk outdoors.
$25.00 per bottle $270.00 per case
2011 BANDOL BLANC
DOMAINE DE TERREBRUNE
Like a father admiring his children, Reynald Delille of Terrebrune smiles with equal amounts of pride upon his red, white, and rosé. He knows how to impress and regularly pours older vintages of all three wines. I'm not suggesting you age this Bandol Blanc, but its ability to keep in his cellar is certainly a testament to the quality.
What we have here is refined refreshment. A chalky texture and citrus aroma temper the rustic influence of rosemary and thyme. It was quite a tasty treat alongside a bowl of Provençal black olives.
$32.00 per bottle $345.60 per case