One Day In Beaujolais: Château Thivin
In the heart of Beaujolais, Château Thivin is as picturesque as it is historic and hospitable.  I arrived mid-day to meet the Geoffray family who has been making wine in the idyllic surroundings of the Côte de Brouilly for generations.  Greeted by the elegant beauty of the château and also that of Evelyne Geoffray, I felt immediately welcomed.  The sense of place and heritage steeped in tradition is instantaneously obvious.  Founded in the 14th century, the buildings that make up the château demand a regal kind of recognition.  The grounds are lush and vibrant with splashes of colorful wildflowers surrounded by vineyards as far as the eye can see, which, as it was when I visited, quite far on a clear summer day.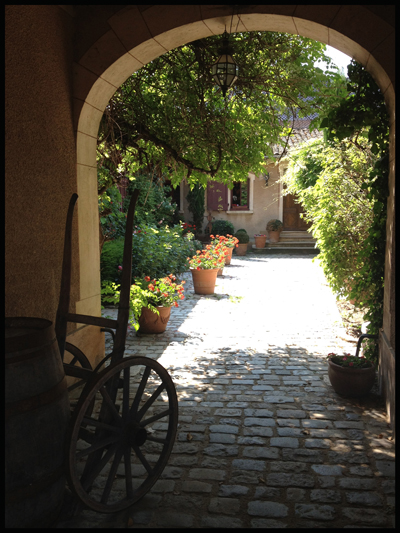 The entrance to Thivin
After a domaine and cellar tour with winemaker Claude-Edouard, son of Evelyne and Claude Geoffray, Evelyne, Claude-Edouard and I all sat down for lunch al fresco at a table perched spectacularly at the crown of the Brouilly vineyards.  Fragrant roses and a cacophony of birdsong accompanied the simple yet infinitely satisfying noontime meal of local charcuterie, garden salad picked moments before, and a selection of cow and goat cheeses specific to Beaujolais.  Claude Senior joined us mid-meal as he had been working all morning in the vineyards.  He is a quiet man, but when he speaks, is passionate, eloquent, and very, very kind.  We tasted through the Geoffray's selection of wines, all of which paired remarkably well with our meal.  The "humble" meal and gracious hospitality of the Geoffrays were setting up to be a highlight of my trip as I readied myself reluctantly for departure.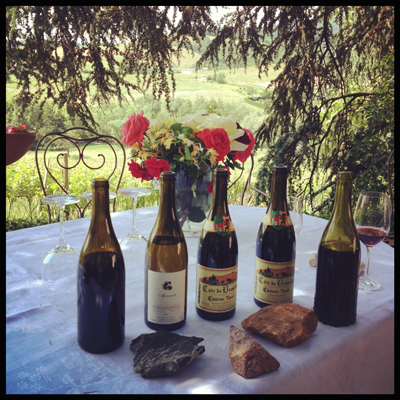 Just as I was about to say my thanks and goodbyes, Claude suggested that I accompany him to a new vineyard for an afternoon of working in the vines.  How could I possibly decline?  You know what they say, "There's no such thing as a free lunch."  In this case, I couldn't have been happier to "sing for my supper" or "work the vines for my wine" as it were.
Not knowing our ultimate destination, I followed Claude's work truck in my less-than-appropriate for vineyard-driving rental car.  The drive to the clos at Château de Rochebonne was scenic albeit long and windy but nothing could have prepared me for the spectacular panoramic views that are the reward for visiting this precious site.  The property is a fairly recent acquisition for the Geoffray family and there are high hopes for the quality of the grapes (Chardonnay) that have prime sun exposure and prized terroir.  No time was wasted and I was given a quick lesson in vine trimming, training, and weeding as well as a tutorial on using a pioche or hoe.  It's not easy work; the relentless sun, hunched back on a dirt slope, but it does have a jovial aspect, too.  Every once in a while I looked around to find the two other workers; a local couple, giggling, smoking their cigarettes, and putting a face to the saying "whistle while you work."  I couldn't help but smile too.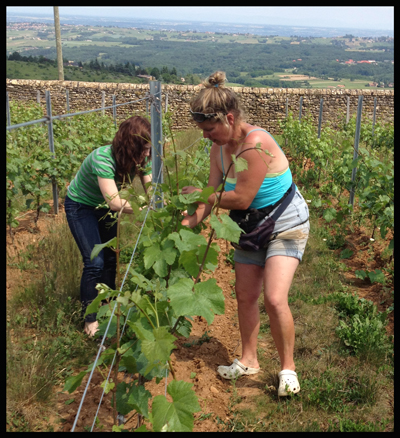 Molly (left), training vines