New Website From Ostertag
Very few of our producers speak English, let alone write it, so we often find ourselves translating updates on vintage conditions and descriptions of new wines that our producers send us.
One great exception is André Ostertag, the enigmatic Alsatian vigneron known for his classic, chiseled, dry wines. He not only speaks but writes in English and is one of those rare talents who is at once informative and eloquent in a language that is not his first. Equal parts philosopher and vigneron, André's writing was once featured in our monthly newsletter. Here's an excerpt from 1996:
Before, a winemaker had to maintain an intimate, direct rapport with the elements. He had to link himself to things, allow them to become a living part of himself, to penetrate his soul, his gut, in order to feel and understand them.
      Had he any other choice? There was no protection against disease or pest in the vineyard. No oenology lab, no research centers. Only the winemaker himself held the key to "Le Grand Vin." When scientific knowledge and technology are limited, our senses of observation, intuition, and sensitivity, all of which make up our subjective thought processes, are heightened.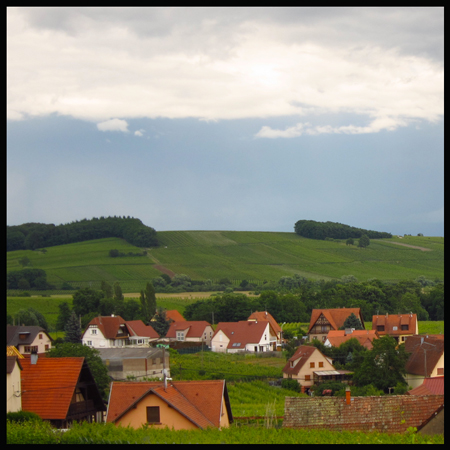 Fronholz vineyard as seen from the village of Nothalten
André wrote us recently with an update on vintage 2012 and some exciting news—he launched his first website, www.domaine-ostertag.fr/en/. Here you'll find beautiful photos of the vineyards and extensive information on each of his wines, designed with the Ostertag eye for esthetics.
Here's what André had to say about the 2012 growing season:
In 2012 we need nerves of steel, but we still hope to have a vintage of great quality in spite of quantity. In fact the cycle is rather normal, not too early nor too late, and there is still good hope for a mild second half of the season, which in the end can only be better than the last 6 weeks!
      Being a vintner is also that: depending on a less and less kind sky, more and more unpredictable, but staying focused on making great wines!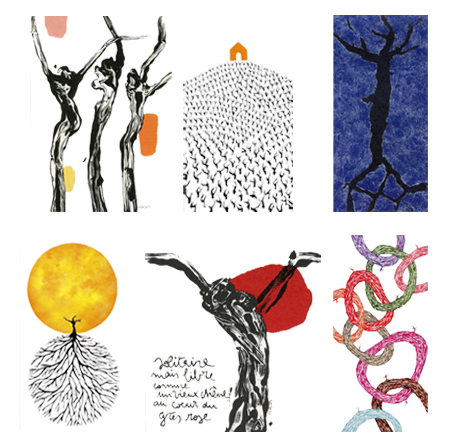 Ostertag labels
Interested in André's wines? Check out this recent newsletter piece for his new arrivals.