Then and Now – Domaine du Vieux Télégraphe
During this anniversary month, we'll look back in KLWM history, focusing on domaines we have imported for more than three decades. A lot can change during that time, but the one thing that keeps us coming back each year remains—the wine.
It is difficult to discuss who our most important producer is, though when this conversation comes up among the staff, we usually consider lists of domaines. Unequivocally, Domaine du Vieux Télégraphe makes the top-five of any of our rankings.
Kermit began working with Henri Brunier and his Vieux Télégraphe in the late 1970s. In Adventures on the Wine Route, Kermit discussed the now famous La Crau vineyard that comprises the Vieux Télégraphe Châteauneuf bottling:
The source of his [Henri Brunier's] wine's quality…is his stony terrain, situated upon the slope of the highest ridge in the Châteauneuf-du-Pape appellation. … In Brunier's vineyard it is hard to walk because the stones slip and slide underfoot. An unreal landscape, it sticks in the mind like the volcanic Kona coast of Hawaii or the surface of the moon (pp 133, 134).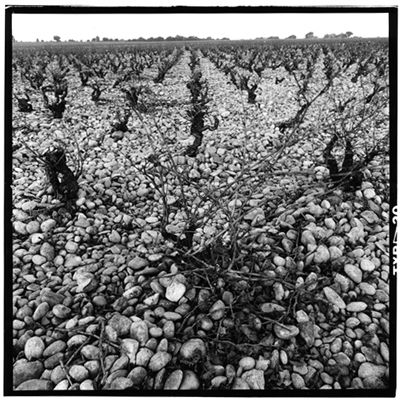 The 1972 Vieux Télégraphe was one of the first wines we imported from the Bruniers. At the time, Kermit described the wine as "splendidly full-bodied, reflecting the sunny climate and stony terrain of Châteauneuf."
After a recent tasting of the 2010, Kermit wrote, "By the time your voyage ends… you are in a completely different place—deep in the heart of Vieux Télégraphe territory—which is to say big gorgeous tannins and a glorious stoniness."
Is it a coincidence that the descriptions of wines made thirty-eight years apart are nearly interchangeable? Clearly they do not taste exactly same, but perhaps what these two excerpts (we could find a few more from our archives as well) speak to is the most consistent thing that connects the bottlings—La Crau.
Much has changed at Vieux Télégraphe since the 1970s that could influence the wine—Henri Brunier's sons, Daniel and Frédéric have run the domaine for years, the business has grown, the cellar is more sophisticated, the earth is indisputably warmer, but the vineyard stays the same. Thirty-eight years might seem like a long time to human beings, but to the stones of Châteauneuf it is but a footnote in geological history. Is wine La Crau's raison d'être? Unlikely. What is certain is the wine that is produced from this vineyard is not only exceptional, but distinct from any other.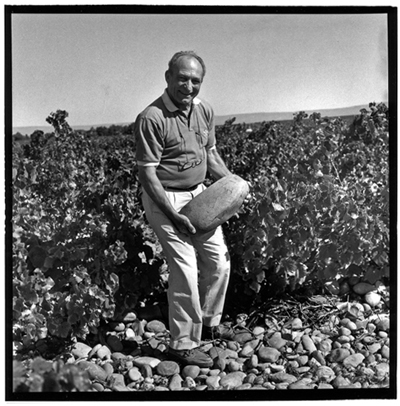 Henri Brunier