Then and Now – Clos Sainte Magdeleine
One of Kermit's favorite themes to explore when writing for the newsletter is to remind his clientele (and employees) that his job as a wine importer is not one big vacation. Yes, he lives in Provence part of the year but what happens when he has to visit a producer? It's a long commute to Châteauneuf, Bourgueil, or Chablis.
"Yesterday, for example, I had to spend practically the entire day at Cassis. It is not like I can just taste the wine, agree on a price, and go home. No, I had to drive down to the harbor with the winemaker, jump from the pier onto his bobbing boat, and motor out onto the Mediterranean, scene of countless shipwrecks. The sun's heat was blazing. I tried not to think of ozone depletion, sunburn, skin cancer… We had no choice but to jump into the cooling sea. Luckily I happened to be wearing a bathing suit. Just as I was about to dive in, I noticed a school of inch-long jellyfish floating by. Their sting can momentarily paralyze you and leave you in pain for days. I wondered, is this really worth it? We motored out to safer waters and, finally, almost faint from heat prostration, I plunged into the cool blue water, a blue so beautiful I could barely stand it."(pp 319, 320, Inspiring Thirst)
The man who puts Kermit through this torture happens to be the proprietor of Clos Sainte Magdeleine—François Sack. François has been a good pal of Kermit's since the beginning. When Kermit is in France, they travel, dine, and hang out together, and if the timing works out, they do a little business. Though François has delegated a number of duties at the domaine to his son Jonathan, what sets him apart from other long-standing producers is his consistent presence through the last thirty-plus years. Like Kermit and Aubert de Villaine, you could say that Kermit and François grew up together in the wine business.
No one here at work actually believes Kermit's forty years of business has been one long vacation. Some of us have traveled to France, done tasting trips, and gotten a glimpse at what it is like to drive, taste, talk, and eat twelve or more hours a day. Most believe that it is hard work. But we have also been to Cassis and met François, seen the Cap Canaille, looked out across the painfully blue water and thought, "la vie est belle!"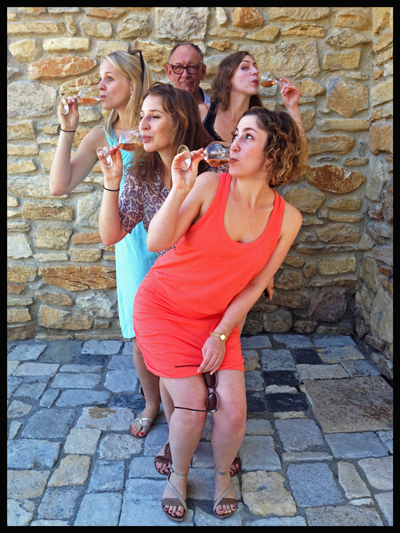 Kermit and four-fifths of the staff from our French office at work at Domaine du Gros 'Noré.
The other fifth, Chris Santini, was stuck in Beaune becoming a father for the first time.
(Front to back: Emily, Jane, Julia, Delia, and Kermit)
© Gail Skoff