Then and Now – Domaine Tempier
The winery that is most closely associated with our history is undoubtedly Domaine Tempier. Bandol is Kermit's second home and he was drawn there by the incredible land and seascapes, the vignerons and their families, and Richard Olney. It is a rite of passage for a KLWM employee to visit Kermit near Bandol, stay at his home, and taste with him at the domaines in Provence that we import.
Kermit was introduced to Domaine Tempier by his close friend, Richard Olney. Richard first discovered Tempier at a tasting in Paris in 1955 when he tasted the 1953 vintage. Not more than a few years later he settled near Bandol, close to Domaine Tempier, and quickly became lifelong friends with the owners—La Famille Peyraud. In 1984, Richard contributed a piece about Domaine Tempier to our monthly brochure:
"Domaine Tempier is a wine—it is also a family; exuberance and finesse are the traits common to both. The Peyrauds are Lucien (who pretends to be retired), Lulu (née Lucie Tempier), the two sons, François (who cares for the vines) and Jean-Marie (whose eagle eye controls the vinification, the cellars, and the paperwork), four married daughters, none of them who live far away, and Laurence, the Parisian of the family…and, of course,…a gaggle of grandchildren."(Inspiring Thirst, pp 118)
When Kermit began importing the wines of Domaine Tempier in the mid-seventies, Lucien was beginning his retirement and the sons were taking over. A few years later, Kermit wrote that "In my personal cellar I own more bottles of Domaine Tempier's bold-tasting, soulful red than any other single wine."  Nowadays this fact is probably still true, with Domaine Les Pallières being a close second.
The Peyrauds still run the domaine and the matriarch, Lulu, at 94, happily receives guests. The brothers have retired from their vineyard and cellar work, but work closely with Daniel Ravier, the current winemaker who has honored the Tempier traditions and style as if he were a Peyraud.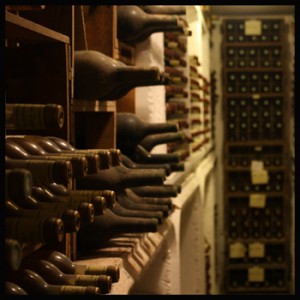 A visit to Tempier will exceed your expectations. Modernizations are few and the traditional style of winemaking that the family has always practiced is evident—the cellar is filled with foudres of varying sizes and shapes. You are received by a member of the family (a few years ago, I tasted with Jean-Marie) and treated casually—as if you'd been there before and were always welcome. A trip to the library holdings is hardly different than it was ten, twenty, or thirty years ago—bottles are stacked in cement cubbies, dust covers everything, and you taste the old wines there, shoulder to shoulder with the lucky few who join you. There are no leather couches, varnished oak tables, or chandeliers like the famous châteaux of Bordeaux or "reserve" cellars of Napa. This is Provence, where pretense doesn't exist and family roots are held to the highest esteem. You can't help but feel at ease in this homey atmosphere.
It is not hard to see and feel why Kermit chose to live in Provence, near enough to Domaine Tempier so he could fill the trunk of his car as needed. The stories of epic lunches and dinners lasting until all hours are not just things of the past. Kermit has helped preserve the wines and traditions of France by providing a market for the wines in the US, but he also continues the history of hospitality that welcomed him to the region.
If you are in the area, make an appointment to visit. Tell them you buy from Kermit, and you'll be well received.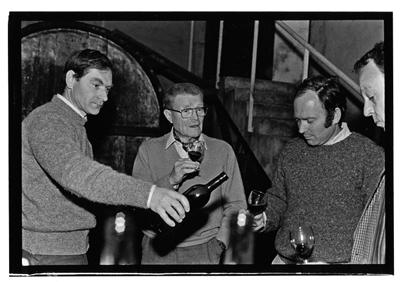 Tasting at Tempier, 1983
(L to R) Jean-Marie, Lucien, François, Richard
© Gail Skoff