November Newsletter: Wine at Table, 2012 Beaujolais Nouveau, Champagne Extravaganza
The November newsletter is now available.
Click here to download the pdf.
2009 GRANGE DES PÈRES
by Chris Santini
Grange des Pères is a rare bird. I don't mean that only in the cult-wine, nearly-impossible-to-find-a-bottle kind of rare, but also in the boundaries this wine transgresses. Here's a wine that has made wine critics sing the highest of praises, yet still makes the "natural wine" enthusiast bristle with excitement when given a chance to taste. Have a look at the wine lists throughout the world that carry the wine, and you'll see it on the ultra-select high-end lists that have nothing but the big and fancy names, and you'll also see it on the lists at the opposite end of the spectrum that feature the esoteric and artisanal approach. Grange des Pères rouge is dark and rich, with deep tannins, full of licorice and myrtle, yet incredibly balanced and nuanced at the same time. It's got the brambly, animal side of its native Languedoc, as well as the high-toned finesse of Cabernet Sauvignon. You can drink it young or age it as long as you please. There aren't many wines in our increasingly polarized wine world that can make all generations and all types of palates sit around the same table and nod in agreement. Laurent Vaillé, the man behind Grange des Pères, isn't one to make stands and statements; he's never set out to convince anyone of anything, really. The insights he provides in the rare interviews he accords never extend beyond a shy yes or no response to any given question. He is, however, always smiling, always kind, and a true modest soul. He quietly creates what we all can agree is simply Greatness.
2009 GRANGE DES PÈRES ROUGE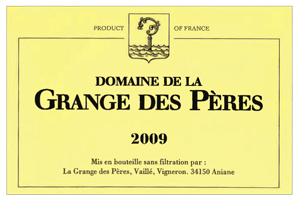 $87.00 per bottle
Pre-arrival terms: Half-payment due with order;
balance due upon arrival.

SPECIAL ANNOUNCEMENTS
BE THE FIRST ON YOUR BLOCK
Be the first on your block to taste this year's sensational, ultra-natural 2012 Domaine Dupeuble Beaujolais Nouveau, a once-a-year treat. Visit the webpage below for a list of all California retailers carrying the wine starting Thursday, November 15.
Eric Asimov Book Signing
Thursday, November 15
Join us for a special reading and book signing with the New York Times's chief wine critic, Eric Asimov. He'll read passages from his new book, How to Love Wine: A Memoir and Manifesto, answer questions, and sign books.
5:30  Meet the author at Bartavelle Coffee & Wine Bar
6:00  Reading and Book Signing inside Kermit Lynch Wine Merchant
RSVP Required: Please call 510.524.1524
1605 San Pablo Avenue at Cedar Street,
Berkeley, California