Wine Fallacies: Champagne With Meal?
There are a number of misconceptions about wine that many members of the industry seem to be on a tireless crusade to end. At the top of this list of fallacies you'll find tired adages like "All Rieslings are sweet" (no, they are not), and, worst of all—"Beaujolais sucks." If you're reading this, then you are likely to bring a Morgon or Côte de Brouilly to a friend's house for dinner just to spite them into admitting they actually do like Beaujolais.
Another one of these misconceptions is that Champagne is only meant to be drunk for celebrations and never with food. The brilliant marketers from Champagne (whose predecessors are at fault for creating the idea that Champagne is only for celebrating) have been trying to change this idea by claiming that Champagne makes for a wonderful wine to pair with a meal. On the surface, this notion might seem like a thinly veiled attempt to boost sales during the non-holiday months of the year. That might be true, but behind it was most likely a stunning first-hand experience, similar to the one I had a few weeks ago when I paired a heritage pork chop with the J. Lassalle "Cachet Or" and had a food-pairing revelation. Instead of immediately taking to Facebook and screaming, "I get it!," I took a step back to fully understand why people don't pair Champagne with food more often. Then I realized that Champagne is the problem, not the fine wine drinking public.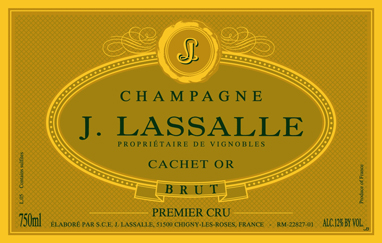 When people say, "pair Champagne with food," they mean real Champagne—sparkling wines of great complexity, hailing from the Champagne region of France. Quality Champagne starts around $35 per bottle—a sum that for many customers is a little pricey, and falls in to the "special bottle" category. And isn't that what Champagne is after all? A bottle for an extraordinary occasion?
The issue here is that there are few substitutes for Champagne. Consider a dinner of grilled halibut. What to pair? If you walked in to our retail shop, a salesperson might recommend the 2011 Bordeaux Blanc from Château Ducasse at $16 or the 2010 Pouilly Fuissé "La Croix" from Robert Denogent at $39. Two very different wines but both would make great pairings. For a toast on New Years Eve, Prosecco can substitute for Champagne, but when it comes to pairing with a nice meal, it just doesn't work—when considering food, you need a sparkling wine with depth of character and some grip and length on the palate.
The myriad of other sparkling wines available are great for sipping by themselves, toasting an occasion, mixing with cocktails, and pairing with oysters and consequently I drink Prosecco, Vouvray Pétillant, and Clairette de Die more often Champagne. But give it a go. Trend towards white wine pairings but consider rosé Champagne as another option for a red wine pairing. Enjoy a bottle of Champagne at a nice restaurant or have it at home with a special dinner—you'll be pleased and surprised at the possibilities.